indian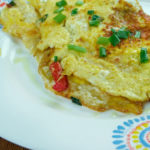 This omelet makes a great side dish for a curry if you don't want to serve rice or naan bread or if you are looking for low carb side dish ideas. You can also eat it by itself as a meal or snack. This is the best Indian omelet recipe to choose if you are looking to spice things up a little and enjoy a brand new flavor.
What is in the Best Indian Omelet Recipe
Along with the eggs which are of course the main ingredient in any omelet, we are using spinach, shallots, cilantro, turmeric and chili.
You can omit the spinach if you want, or replace it with sliced mushrooms. You can also swap the shallots for a small yellow onion or omit the chili pepper if you don't want it spicy.
Making the best Indian omelet recipe is simply a matter of combining the ingredients then cooking the omelet in a skillet. I like to wilt the spinach first but you don't have to do that unless you want it really soft. It cooks in the omelet anyway. Continue reading →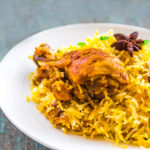 This tasty Indian dish, chicken biryani with drumsticks, offers an incredible flavor and it is not difficult to prepare. I had my first authentic Indian biryani when I was backpacking around India and the flavor really blew me away.
This recipe originated in the Indian subcontinent or Persia, and it is enjoyed all over Central and South Asia, as well as in the Middle East. Rice, spices and meat and/or vegetables are the main ingredients.
Biryani may be compared to pulao rice but biryani is usually cooked with layered meat and rice and pulao is not layered at all. Chicken biryani with drumsticks is usually a main dish while pulao tends to be more of a side dish.
How Biryani Gets its Flavor
Popular ingredients in an Indian biryani recipe include clarified butter (known as ghee), coriander, cinnamon, cardamon, cloves, ginger, garlic, onions, and nutmeg, but every recipe is different. Saffon can be added to the dish, and some will use turmeric or yellow food coloring to color the rice. Continue reading →
Some More Hot Content For You
This wonderful recipe for tandoori chicken in the oven is made with chicken pieces. You can use drumsticks, breast halves, leg quarters or chicken thighs, either bone-in or boneless to make tandoori chicken in the oven. The marinade is made with yogurt (use whole or nonfat, as you prefer) along with lemon juice, garlic, chili paste and a variety of aromatic spices, Leave the chicken pieces in the marinade overnight for the best results.
Once the chicken is marinated and you are ready to cook it, get the oven nice and hot, then arrange the chicken on a rack over a roasting pan so all the parts of the chicken are exposed to the heat and so any marinade can drip off and on to the roasting pan underneath.
Tandoori Chicken in the Oven Side Dishes
Our tandoori chicken in the oven recipe goes very nicely with homemade raita (stir some grated cucumber and fresh mint into yogurt), your favorite green salad or green vegetable, and perhaps also some delicious white rice or naan bread. Consider garnishing the finished tandoori chicken in the oven recipe with some slices of raw onion and lemon wedges, or else a sprig of cilantro or parsley instead.
This is a simple recipe to prepare, and as long as you plan ahead, to allow yourself sufficient marinating time, you should really enjoy the results of this tandoori chicken in the oven recipe.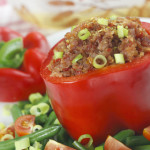 I've always been a fan of stuffed peppers, especially when beef, rice and cheese come together with seasonings to offer a rich and satisfying filling. But this time I wanted to make something without the rice and cheese, and I was curious how to flavor the beef sufficiently so that could be the main ingredient. That is how the idea for these curried beef stuffed peppers was born.
The following curried beef stuffed peppers recipe is made with spices and seasonings to add a light curry flavor to the beef filling, along with walnuts, raisins and other ingredients to add flavor accents. The overall effect is amazing and I am keen to make these curried beef stuffed peppers again soon.
I served the curried beef stuffed peppers with green beans on the side and actually they didn't look much on the plate but, trust me, they are filling! The following recipe makes 2 servings and the amount of filling should be just enough to fill the peppers. Mine was perfect – neither too much nor too little, but of course it depends on the size of your peppers.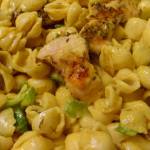 Pasta is not the first ingredient that should come to mind when you think about Indian cuisine because of course it is an Italian ingredient. However that is the beauty of fusion cooking. This Indian pasta salad offers some exciting flavors, all of which go together nicely. When combined they offer an exotic flair in what would otherwise just be a basic pasta salad.
You can find all kinds of ingredients in this Indian pasta salad which come together wonderfully. The neutral flavor of pasta along with its firm al dente texture means a spicy, aromatic dressing is sure to suit it instead of clashing. In the following recipe we are teaming our pasta and chicken breast with a fragrant Indian inspired dressing.
Taking inspiration from the classic English Coronation chicken recipe, this salad boasts plenty of exotic flair. Learn more about how British Indian cuisine began and grew and you will soon see how such dishes gained such popularity in the UK.
Serving Tips and Tweak Ideas for Indian Pasta Salad
This Indian pasta salad pairs well with a bunch or red grapes. Alternatively you could serve it over a bed of lettuce, or even just as it is for a 'lunch in a rush' at your desk. Feel free to tweak the ingredients. Perhaps you prefer to use turkey (or have some left over) instead of chicken. Maybe you'd like to swap the celery for green bell pepper or the slivered almonds for cashews.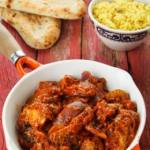 Indian cuisine is really popular in the UK, but British Indian food differs from authentic Indian cuisine. While some dishes are Anglicized versions of typical Indian dishes, others are Indian takes on typical British dishes, so there is plenty of fusion.
Fish and meat are cooked as curries with Indian vegetables, and yogurt, almonds and coconut are typical ingredients in this cuisine. British roast beef for example can be modified with chilies and cumin to make a curried beef dish.
Indian roast type dishes, rices, breads and curries all offer a distinctive Indian taste. Some examples of British Indian food include mulligatawny, fish rissoles, coronation chicken, kedgeree, rose cookies, and salted beef tongue. The term 'British Indian food' can also apply to recipes adapted during the British Raj in India which achieved popularity in the UK afterwards.
Indian chutney is usually sweetened or cooked in British Indian recipes but not highly spiced. Major Grey's Chutney is a good example, although spicy or sour fresh chutneys are not often seen. Piccalilli was an early attempt at an Indian condiment.
Continue reading →
Other Posts You Might Like