indonesian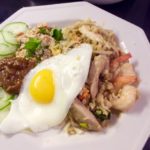 This cauliflower nasi goreng – low carb and tasty – might well earn a place on your regular meal rotation. It's just so special! Nasi goreng is a delicious dish from Indonesia, which I've enjoyed plenty of times since moving to the Netherlands, since the Dutch are very much into Indonesian foods.
Although this is a rice-based dish and you might think no way can that be low carb, swap the rice for cauliflower and it will be! Also, because this is a spicy dish (a dish with spices, not necessary 'hot' if you don't want it to be) you won't taste the cauliflower.
What is Nasi Gorgeng?
The name 'nasi goreng' means fried rice in Malay and Indonesian, and the term can refer to pre-cooked rice with a little cooking fat and kecap manis, which is a sweet soy sauce. Shallot, tamarind, chili and garlic are typical ingredients, along with egg, shrimp and/or chicken. Sometimes salted dried fish are used instead of the other proteins.
This recipe is known as Indonesian although it is also popular in Malaysia, the Netherlands and Singapore. Nasi goreng can be enjoyed everywhere from roadside stands in Indonesia to Jakarta buffet tables or fine restaurants. This is known as the national dish of Indonesia, although I'm not sure what the locals would make of this low carb cauliflower nasi goreng variation. This dish was developed as a way to avoid wasting cooked rice, since frying can stop dangerous microbes propagating especially before refrigeration was commonplace like it is today. Continue reading →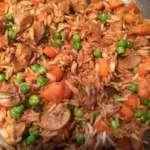 Nasi goreng means 'fried rice' in Indonesian as well as Malay, and it can be fried rice, a meal with stir-fried rice, or a salted dried fish mixture with rice. The main ingredient in an authentic nasi goreng recipe is always the rice, so if you are looking for something to make with leftover rice, keep reading and discover this wonderful Indonesian dish.
Authentic Nasi Goreng Recipe Ingredients
Known as the national dish of Indonesia, the best nasi goreng recipe is whichever mixture you like, perhaps rice with kecap manis (sweet soy sauce), egg, chicken, shrimp, garlic, and shallot, or perhaps you favor mushrooms and peas, or even beef and chilies.
Take a look in the refrigerator and cupboards before making an authentic nasi goreng recipe. If you have rice and some kind of vegetables you can make this. You can even switch the seasonings to make it fit what you have. There is no set recipe because it is a dish of various leftovers.
Beginning life similar to Chinese fried rice – a good way to use up leftover cooked rice – it was discovered that frying it could kill any microbes (which was important before the days of refrigeration). Nasi goreng is traditionally made from rice leftover from the evening before, and served for breakfast in Indonesia, although in the West we tend to prefer rice-based recipes for lunch or as an evening meal.
Continue reading →
Some More Hot Content For You
Other Posts You Might Like