italian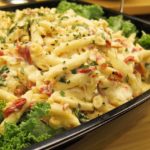 Pasta salad is always a winning dish. It is cheap to make, you can use leftover cooked pasta or cook some in about 10 minutes, and there are all kinds of flavors you can add to this easy pasta salad with parmesan cheese.
In this recipe we are keeping with the Italian theme (although you might like to look at our Indian pasta salad for a wonderful fusion idea!) by incorporating parmesan cheese and sun-dried tomatoes.
Dressing Tweaks
Although the tangy red wine vinegar dressing is good, sometimes I prefer to just use mayo for a super-simple dressing which boasts a lovely creaminess everyone is going to love. You can add other flavors to the mayo too, like mustard, spices or dried or fresh herbs, as you like.
Use white pasta for the best result – perhaps penne, shells or another favorite. For pasta salad, avoid the long kinds like spaghetti or linguine, and go for something that's easy to pick up on the fork or scoop up in a spoon.
This recipe can be made quickly and easy, and it is an excellent pairing for everything from grilled chicken to burgers, steaks or even fish. Why not make a big batch for your next barbecue event or party? Continue reading →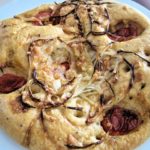 Focaccia is a tasty Italian bread which complements all kinds of dishes. Although you can buy it from the bakery or grocery store, making your own easy tomato and onion focaccia loaf is worthwhile because let's face it – you can't beat freshly baked bread! And this one is certainly no exception.
How to Serve Focaccia
You can serve this easy tomato and onion focaccia as an appetizer, either alone or with dips like sour cream dip or onion dip, or else have it with your main dish. If you are having beef, chicken or similar in a sauce, focaccia bread can be used to scoop up every last drop of those yummy meat juices, making it a worthwhile accompaniment to any Italian meal.
This recipe is simple to follow. Grab some yeast, flour, salt, oil, onion, tomato and oregano to make it, and allow an hour or so time for the dough to rise. This baked Italian bread is similar to pizza dough and is often served with appetizers or tapas in Italian cuisine.
Why Focaccia Rises More
Focaccia uses more yeast than pizza dough though, so it rises more. Serve this easy tomato and onion focaccia flat bread with your appetizers, alone with aperitifs, with dips (fusion style) or alongside your Italian inspired meat or fish dish, and you're sure to have a winner on your hands. Continue reading →
Some More Hot Content For You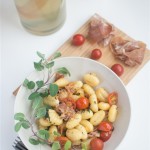 Gnocchi makes a change from pasta or pizza but is just as Italian. So if you are in the mood for Italian food but not something too, well, obvious, consider gnocchi! This dish, which comprises potato gnocchi, cherry tomatoes and mozzarella, is also known as gnocchi alla sorrentina. Gourmet gnocchi makes such a nice dinner. It's the perfect balance between satisfying and delicate.
I like to add prosciutto to the dish but you could add serrano ham or regular ham instead (the thinly shaved kind) or else just leave it out, for a vegetarian result. You could even get creative here, adding shredded cooked chicken or similar, as a way of using up leftovers from last night's meal.
What is Gnocchi Exactly?
Gnocchi is like a little dumpling made of potato and flour. You can make your own or grab a package from the pasta and rice aisle in the grocery store. Obviously it's far easier just to grab some ready-made. If you add plenty of fresh ingredients you can restore a homemade flavor to the dish. We are adding cheese, tomatoes and ham, and this adds plenty of flavor and color, and it's also really easy to make this simple Italian staple into a gourmet gnocchi meal ready to knock your partner's socks off with big, bold flavors!
Serve this with some crusty bread, preferably ciabatta or another kind of Italian bread if you can get it, along with butter. Add a baby leaf salad and some kind of basic dressing like extra-virgin olive oil and red wine vinegar or balsamic vinegar, and you have a delicious entree which everyone will love. This certainly makes an exciting change from the usual pasta recipes. Continue reading →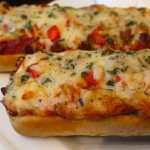 Pizza comes frozen or from the pizza delivery place or from your local Italian restaurant. But wait, what about the best pizza? Well that would be the kind you make yourself at home! Honest, it's so quick and easy to make pizza yourself and you don't even have to make the dough. This homemade pizza on French bread will have the kids (and grownups) beating down the kitchen door, it smells so good!
The quickest pizza recipe probably has to be this tortilla pizza but next up you have baguette pizza or French bread pizza, which is French bread, French stick or baguette bread (however you call it) topped with tomato sauce and pizza toppings to make the most amazing appetizer or main dish.
Why Use French Bread as a Pizza Crust
French bread makes a great pizza crust since it is naturally crispy on the outside and soft in the middle. It really is so delicious! Top with your favorite sauce and toppings and you will find just anything goes. Get as inventive as you wish with a homemade pizza on French bread.
In addition to French bread being crispo and tasty, it holds the sauce and toppings really well, so the next time you fancy Italian food but not spaghetti carbonara or traditional pizza, consider this French bread pizza recipe and rustle up something quick, easy and above all… tasty! I like shrimp on mine, or maybe tuna or another kind of seafood. I just like seafood pizza. Oh, and smoked salmon – that is good too!
Continue reading →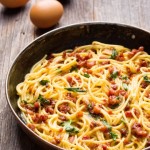 This is a classic Italian dish made with spaghetti, bacon and eggs. There are different variations – some people add cream or cream cheese, some will add parsley or another herb, and others will use whole wheat spaghetti over white spaghetti. However you prefer it, an easy spaghetti carbonara recipe is well worth adding to your culinary repertoire.
The following recipe is really simple, even if you are a newbie in the kitchen, and the flavor is amazing. This is good served with mixed salad leaves dressed with vinaigrette. Learning how to make spaghetti carbonara is a great idea if you want to serve something impressive but only have 2 pots on the stove.
When I made this easy spaghetti carbonara, I chose to add some cream cheese. It wasn't necessary (I mean, it would've been good without it) but I wanted some creaminess in there. The authentic spaghetti carbonara recipe is made without the addition of cream or cream cheese, but if you want to add some, well it's your dish! I also added turkey because I had some to use up and that was great in there. Continue reading →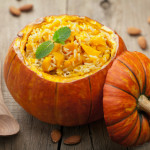 This is such a great recipe for the fall (or maybe you call it autumn, depending where you're from) and the juicy chicken, sweet pumpkin, comforting rice, and other tasty flavors in here combine beautifully to make this gorgeous chicken pumpkin risotto.
To make a flavor-packed risotto, stick to delicate, fragrant flavors, and you will experience this timeless Italian dish the way it was meant to be enjoyed.
That Wonderful Risotto Texture
To get the texture of the chicken pumpkin risotto just right, use risotto rice (arborio or carnaroli perhaps) and keep adding the liquid in small amounts, letting the rice absorb the liquid before adding more. The rice is done when it is al dente, which means it still has a little bite to it. You might not need to use all the hot stock.
We are going to be cooking the pumpkin and chicken first, then sauteeing the onion and garlic in olive oil. Next the rice goes into the mixture, and you can add the wine, then the chicken stock bit by bit, letting the rice soak up the liquid.
Finally the chicken and pumpkin go back into the chicken pumpkin risotto and you can stir in the parmesan. Use freshly grated parmesan, not that cheap powdery stuff (which isn't actually parmesan at all).
Other Posts You Might Like