jacket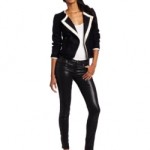 Tweed suits and the best tweed jackets for women make a fashion statement and you can buy some gorgeous pieces. Look at some of the best tweed jackets for woman and find something which is perfect for you.
They are warm, stylish and comfortable. Buy a tweed jacket and you can be the envy of your friends.
Choose from Warm or Cool, Heavy or Light, Thick or Thin Fabric
Tweed comes in many different colors and you can get different blends too, perhaps warm wool for a winter jacket or a lighter blend with cotton if you still want the look of tweed during the warmer seasons.
Invest in tweed and you will have a staple in your closet which is never going to go out of style. The best tweed jackets for women are those you are going to want to wear all the time and find new pairings for.
Modern or Classic? Best Tweed Jackets for Women
Perhaps you like the ultra-modern pink tweed jacket options available right now, or what about the multicolor choices for a splash of fun? You can't go wrong with classic brown either, whether you choose a light mocha color or if you prefer the depth of espresso or chocolate brown. Continue reading →
Other Posts You Might Like