lamb hoisin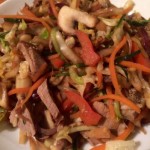 This recipes uses leftover lamb, but you could use any leftover meat to make it. Just chop it into small pieces and then you can add it to the recipe. The vegetables add flavor and color to the dish, and you can feel free to use your favorites. I love lamb crackslaw because it's tasty and oh so filling.
If you want to swap the carrot for broccoli, for example, go ahead. This could be served with a starch on the side, but I usually just have it as it is, because it is satisfying enough like that. In fact it is really filling.
This recipe is really appealing and even if you are not following a low carb diet you will love it.
Hoisin sauce does contain sugar, so avoid this dish during induction, or use a sugar-free, low-carb Chinese cooking sauce instead. Continue reading →
Other Posts You Might Like