low carb crackslaw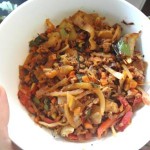 Perhaps you have read about the classic crackslaw recipe on a low carb forum or one of your friends has been raving about it but what is crack slaw and why is it called that?
Well, first things first, crackslaw is supposed to be addictive, which is how the name came about, but don't worry, there is nothing illegal in it! It is addictive in a good way because it is a filling low-carb meal packed with nutritious ingredients.
What's In a Classic Crackslaw Recipe?
This is an oriental inspired recipe featuring ground meat (or poultry or a vegetarian alternative) as well as cabbage or coleslaw mix (cabbage and carrot, usually). The dish is spiced up with ingredients like soy sauce, ginger, hot sauce and more. Continue reading →
Other Posts You Might Like