Mackerel Pate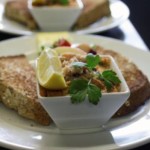 If you are in a hurry it's good to know that you can make this quick mackerel pate recipe in a matter of minutes. Smoked mackerel fillets are used for this pate as well as soft cheese, onions, lemon and tabasco. Serve this pate with melba toast or crackers and perhaps some grapes or basil leaves for garnish.
Homemade is Always Best
Buying pate from the shop is easy but homemade pate is always in a league of its own. In fact there is no comparison between the two. If you want to make a nice starter recipe for a dinner party then consider mackerel paté and you will be very tempted.
Soft cheese, spring onions and lemon work harmoniously with the mackerel and this quick mackerel pate recipe will have a good, firm texture as well as a pleasing flavor. You can make this in literally 3 minutes, but make it ahead so you have time to chill it. That way the flavors will all blend together. Continue reading →
Other Posts You Might Like