mexican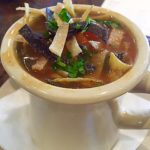 Chicken tortilla soup is one of my favorite soups. I love everything about it – the juicy chicken, the tomato-ey broth, the crisp tortillas on top, the cheese, just… everything! I like to keep my soup recipes simple, so you will see the following is as streamlined as I could make it. Grab the ingredients you need and make this. I promise, whether you want a light lunch or simple supper, you're going to love it. There are lots of different chicken tortilla soup with Rotel tomatoes recipes to try but I happen to like this one just because it is so easy.
What You Need to Make It
Along with the cooked chicken and Rotel tomatoes you will need refried beans, chicken broth, corn and either some fried tortilla strips or broken tortilla chips, whichever you have.
If I am jazzing this up, I might add a scoop of sour cream and some avocado on top, and I like to add a good amount of shredded Mexican blend cheese as well. Those additions to the basic recipe make all the difference, but they are purely optional. So just add what you want to have.
This chicken tortilla soup with Rotel tomatoes makes a great meal and it's surprisingly filling too. There are crockpot chicken tortilla soup recipes too, but honestly if you're using leftover shredded chicken you might as well simply mix the ingredients together in a pan and cook the soup in a matter of minutes. Continue reading →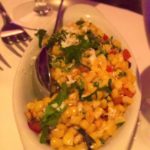 Corn is always good especially when you cook the fresh kind and slice it off the cob in sweet, juicy slices. I love this Monterey style sweet corn recipe as a side dish because it seems to complement just about everything from chicken or seafood to steak or game meats.
Why You Should Make This Monterey Style Sweet Corn Recipe
This dish is easy to prepare, attractively bright colored and is sure to appeal to even the youngest members of the family – those who are normally picky about vegetable-based sides!
I find about a tablespoon of jalapeno enough to give the the Monterey style sweet corn a bit of a bite, but of course some people prefer to add more while others want to omit all traces of spice from their food, so you be the judge here and adapt it to suit your own palate.
If you need to rustle this up in a hurry, you could use well-drained canned corn but honestly that doesn't really do this south of the border inspired dish justice, so get some fresh ears of corn and make it from scratch. That way you will have a real explosion of flavor in your mouth with every mouthful.
Continue reading →
Some More Hot Content For You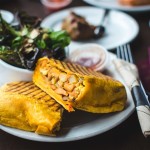 A beloved Mexican and Tex-Mex food, a burrito makes a great lunch, dinner or snack. And this is the best breakfast burrito recipe I ever tried! One modern trend is all about presenting this hearty delight first thing in the morning and calling it a breakfast burrito. So you can have your breakfast all rolled up neatly burrito-style. A breakfast burrito recipe will contain typical breakfast ingredients like potatoes, bacon, eggs, mushrooms, whatever else you like. These fillings will be hot and cooked, enclosed in a soft flour tortilla.
Burritos are wrapped or folded to enclose the filling, unlike a taco which is usually folded in half around the filling. Some people like to steam or lightly grill the tortilla to softed it, so it wraps around the filling more easily. Order a regular burrito in Mexico and you can expect meat and refried beans to be your typical filling. Head north of the border into the US though and you will find a wider variety of fillings like rice, beans, lettuce, salsa, cheese, sour cream, guacamole and, where breakfast burritos are concerned, even bacon, eggs and hash browns – hey, why not!
The word burrito translates from the Spanish to mean 'little donkey' and it is thought the name comes from the look of the bedrolls and packs donkeys used to carry. Try this best breakfast burrito recipe when a bowl of cereal simply isn't enough to prepare you for the day ahead. Continue reading →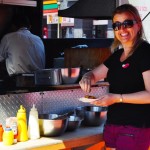 I think it's fair to say Mexican food has to be one of the most misunderstood cuisines of all. People who aren't familiar with it assume it's all tortillas, beef and chilies, while those who eat at fast food outlets might believe those dishes are more authentic than they are. Eating authentic Mexican food in Mexico isn't difficult but there are lots of tourist places you ought to avoid if you want to be eating the real deal.
And then you have Tex-Mex, Cali-Mex and all the other hybrids and regional variations, so it's hardly surprising knowing what is authentic Mexican food and what is not can be confusing!
Tasty Tacos
Let's start with tacos. These are an authentic Mexican food, right? Many people are used to the bright yellow U-shaped fried kind filled with meat, copious amounts of cheese, sour cream and jalapeños, but head down south and enjoy authentic tacos.
Those are one of my favorite Mexican treats, and I love ordering mine from the taco vans on the street for a really authentic experience. Continue reading →
Knowing how to make cauliflower rice is very handy whether you are looking for a low-carb substitute for rice, you are trying to cut down your calories, or you simply want to use up a cauliflower or sneak some added nutrients into your meal. Try this Mexican cauli rice dish for yourself and you'll be amazed how good it is.
This Mexican cauliflower rice recipe is simple to prepare, and it is something you can tweak to your heart's content. The first thing you need to do of course is transform your raw cauliflower into rice-sized pieces, and the easiest way to do this is to put it in the food processor with a blade attachment and whiz it for a few seconds.
How to Make Cauliflower Rice
If you don't have a food processor though, you can do it in the blender or else use a box grater to do it by hand. You can use the whole cauliflower apart from the leaves and the woody part right in the center. Don't use thawed cauliflower for Mexican cauli rice because it is too mushy to separate into the rice-shaped bits. Continue reading →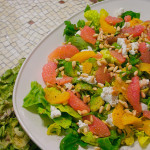 This Mexican Christmas salad recipe is traditional in both Old and New Mexico, although we are adding a twist with the charred lettuce wedge. Although romaine (known as cos lettuce in some places) really comes to life on a grill, the delicate leaves do not always stand up to the temperature needed by the rest of the food on the grill, and nobody wants a wilted mess on their plate.
Thanks to the blowtorch you can control how much heat you use and where it is directed. Besides, who wants to stand outside shivering over the grill on Christmas day, knee-deep in snow? Er, no thanks!
How Mexican Christmas Salad is Prepared
In this Mexican Christmas salad recipe, romaine hearts are coated in extra-virgin olive oil and parmesan and then scorched until the cheese browns. You can scorch the lettuce as little or as much as you wish, although we suggest using a blowtorch until the parmesan flakes have melted and you can see golden brown patches on the romaine.
So when is this Mexican Christmas salad good for? Well you could serve this as an appetizer on Christmas Day or save it until Boxing Day when your belly is begging you for a lighter lunch after all those heavy holiday dinners. I know that feeling! Basically, this Mexican Christmas salad is tasty, nutritious, well balanced and really worth making, so give it a go!
Continue reading →
Other Posts You Might Like