mexico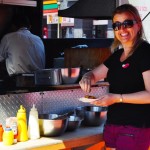 I think it's fair to say Mexican food has to be one of the most misunderstood cuisines of all. People who aren't familiar with it assume it's all tortillas, beef and chilies, while those who eat at fast food outlets might believe those dishes are more authentic than they are. Eating authentic Mexican food in Mexico isn't difficult but there are lots of tourist places you ought to avoid if you want to be eating the real deal.
And then you have Tex-Mex, Cali-Mex and all the other hybrids and regional variations, so it's hardly surprising knowing what is authentic Mexican food and what is not can be confusing!
Tasty Tacos
Let's start with tacos. These are an authentic Mexican food, right? Many people are used to the bright yellow U-shaped fried kind filled with meat, copious amounts of cheese, sour cream and jalapeños, but head down south and enjoy authentic tacos.
Those are one of my favorite Mexican treats, and I love ordering mine from the taco vans on the street for a really authentic experience. Continue reading →
Other Posts You Might Like