middle eastern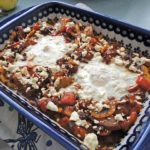 Shakshuka is a Middle Eastern tomato, bell pepper and egg dish. Sometimes it is spelt shakshouka. This Middle Eastern shakshuka recipe actually originated in Northern Africa and there are many different variations on the basic theme.
The feta cheese is not a traditional ingredient, for example, but I love to add it because the creamy tang goes so well with the dish. Leave it out if you prefer though.
How to Serve a Middle Eastern Shakshuka Recipe
It is often served for breakfast in Israel with challah or pita on the side. The dish is also good for brunch or lunch. I like it with pita bread, homemade hummus and other Middle Eastern/Israeli/Arabic dishes.
The sauce is made first and that's easy to prepare on the stove, and then the eggs are gently cracked into the sauce. Finally the skillet goes into the oven so the shakshuka can finish cooking. It is then served hot, with some kind of bread on the side to mop up all the tasty juices.
Good for You Too!
This shakshuka recipe is a healthy dish, boasting the protein form the eggs, the lycopene and antioxidants from the tomatoes, and the vitamin-C from the bell pepper. If you want to make this more substantial add some small lamb meatballs to the sauce. You can also swap the bell pepper for eggplant or grill the peppers first for a richer flavor. Continue reading →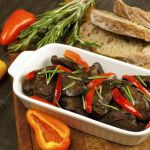 Chicken is one of the most popular meats worldwide, although many of us will gladly buy the breast or drumsticks but be hesitant about the livers – enter chicken livers Middle Eastern style. Once you know this recipe you will want to make it over and over!
Once you try chicken livers though, you are sure to change your mind, because the flavor and texture are both very enjoyable, and these livers are really versatile too – a Middle Eastern flavor works very nicely, but there are plenty of other cuisines using these livers, each adding their own flavors and using their own take on flavors to complement the distinctive liver taste.
Chicken Livers Middle Eastern: Deliciously Simple
We have kept the following chicken livers Middle Eastern recipe deliberately straightforward, because it will be the first time some of you have cooked chicken livers, and we just want to show you how easy they are to prepare. In this recipe some vegetables are sauteed in a pan, then the livers and seasonings go in. Another few minutes and the dish is ready to serve, perhaps with rice or potatoes. How easy is that?
Continue reading →
Some More Hot Content For You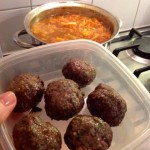 I love this Lebanese lamb meatballs recipe. I've only made the meatballs once so far but it's something I'm definitely going to make again!
These Lebanese lamb meatballs boast plenty of herbs in the form of parsley and mint. You might be surprised at the amount of herbs in these meatballs but, believe me, the combination works really well.
Ground lamb is something I don't use that often, just because the only place I can get it where I live is the Cash and Carry and that's not somewhere I go much, but when I do use it I like to make something special, perhaps some comfort food like shepherd's pie, or else something Greek or Middle Eastern like this Lebanese lamb meatballs dish.
Mouthwatering Middle Eastern Cuisine
Middle Eastern dishes with lamb work especially well because fresh herbs and spices, which feature in a lot of the recipes from the region, work so nicely with the flavor of the lamb. Continue reading →
Other Posts You Might Like