nail polish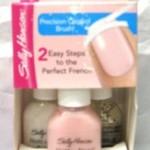 A lot of girls have trouble applying a professional looking French manicure This is understandable because not only do you have to pick out the best French manicure nail polishes but you also have to get your nails the right shape, apply the white tip evenly and professionally, and get the result looking beautiful. French manicure videos are very important because you will want the prettiest result!
The smallest error is glaringly obvious when painting your nails French manicure colors. So it pays to familiarize yourself with French manicure videos, as well as practicing a lot.
What is a French Manicure?
To paint a French manicure you need to paint the tips of your nails white or off-white and then apply pink or beige polish. The result is very natural looking and classy. You can see this technique in French manicure videos.
If your nails are short you can paint a very thin white line on top and if they are longer you can have more white. Continue reading →
Other Posts You Might Like