paleo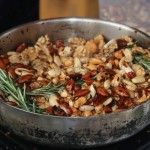 If you are looking for an amazing snack, consider this honey roasted nuts with rosemary recipe. You can use any kind of nuts you want, maybe just walnuts or cashews, or a selection of your favorites. Just choose plain ones, not the spiced, salted or already-roasted kind.
Walnuts work really well in this honey roasted nuts with rosemary recipe, or you might want to use different ones so people can take a peek and pick out their favorite ones. Make a big batch of this (perhaps double the recipe) if you have a crowd coming over, because the roasted nuts keep for up to a week in an airtight container.
The first thing to do when making honey roasted nuts with rosemary is roast the nuts in the oven, just to bring out their flavor and get them extra-crunchy. While they are roasting you can melt the butter with the honey, oil, salt and rosemary in the microwave, then toss the nuts with the honey mixture and then roast them again in the oven.
Other Posts You Might Like