pancakes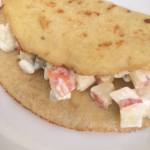 Whether you are looking for a tasty breakfast recipe, a quick snack or even a sweet treat when you get peckish in the evening, this easy banana pancakes recipe is ideal. You can combine the ingredients in a couple of minutes, then cook the pancakes in a skillet on the stove for a few minutes.
Serve them just as they are, drizzled with some syrup or perhaps will chopped fruit or berries as a filling. You can also tweak our recipe, perhaps adding some cinnamon or nutmeg or even a little brown sugar. The sweetness of the banana means you don't really need to add any sugar to the pancake batter, especially if you are going to serve it with syrup, but you know your palate best, so tweak it as you wish.
You can cook these in oil, butter or cooking spray, as you wish. Don't make them too thick, so unless you have a big skillet you might wish to divide the batter in 2 and cook 2 pancakes. Cook them on one side, then flip and cook the other side. The raw batter is very pale yellow, nearly white, and the finished pancakes are golden.
Continue reading →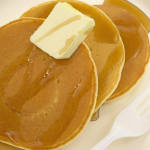 If you love the flavor and texture of IHOP pancakes you are not alone. These delicious, fluffy treats make a wonderful breakfast, teamed with maple syrup or another type of syrup if you are kind of hungry, or eggs, bacon and the whole enchilada if you have a raging appetite! I wanted to make copycat IHOP pancakes so I could prepare them at home.
Perhaps you are in the mood for this authentic IHOP pancakes recipe but you don't really want to get in the car and drive, in which case try the following recipe because the texture and flavor will be just like the IHOP pancakes you know and love.
Copycat IHOP Pancakes – Beautiful Lazy Brunch Idea
Make these copycat IHOP pancakes on a lazy Saturday or Sunday morning for the whole family, and they will all be really impressed, I promise you! Breakfast or brunch… anytime is great for this recipe. Feel free to double or triple this recipe if you are feeding a crowd. You can make as many copycat IHOP pancakes at the same time as your skillet allows. If you only have a small one then either serve some and keep cooking the rest or keep them warm in a warm oven until the whole lot are cooked.
Some More Hot Content For You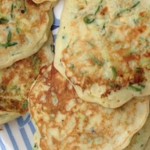 These simple zucchini pancakes make a great breakfast and you can make them in advance, so what is not to love about that?
Low in calories and fat (especially if you fry them in cooking spray rather than butter or oil) they can be enjoyed with sausage or bacon, or simply as they are, perhaps with some garlic mushrooms on the side or a broiled tomato. Try these simple zucchini pancakes and you will be surprised how great they are.
Different Types of Pancakes
Pancakes range from thin and crepe-like to thick and fluffy, and different people prefer them different ways. And yes some even prefer these simple zucchini pancakes. Personally I am more a crepe person and I love large thin crepes rolled around savory ingredients like mushrooms, garlic, goat cheese and walnuts. My mouth is drooling saying that. Nobody knows how to make crepes like the French.
Other Posts You Might Like