parmesan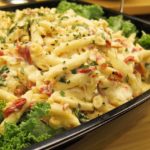 Pasta salad is always a winning dish. It is cheap to make, you can use leftover cooked pasta or cook some in about 10 minutes, and there are all kinds of flavors you can add to this easy pasta salad with parmesan cheese.
In this recipe we are keeping with the Italian theme (although you might like to look at our Indian pasta salad for a wonderful fusion idea!) by incorporating parmesan cheese and sun-dried tomatoes.
Dressing Tweaks
Although the tangy red wine vinegar dressing is good, sometimes I prefer to just use mayo for a super-simple dressing which boasts a lovely creaminess everyone is going to love. You can add other flavors to the mayo too, like mustard, spices or dried or fresh herbs, as you like.
Use white pasta for the best result – perhaps penne, shells or another favorite. For pasta salad, avoid the long kinds like spaghetti or linguine, and go for something that's easy to pick up on the fork or scoop up in a spoon.
This recipe can be made quickly and easy, and it is an excellent pairing for everything from grilled chicken to burgers, steaks or even fish. Why not make a big batch for your next barbecue event or party? Continue reading →
Other Posts You Might Like