pasta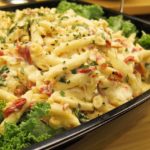 Pasta salad is always a winning dish. It is cheap to make, you can use leftover cooked pasta or cook some in about 10 minutes, and there are all kinds of flavors you can add to this easy pasta salad with parmesan cheese.
In this recipe we are keeping with the Italian theme (although you might like to look at our Indian pasta salad for a wonderful fusion idea!) by incorporating parmesan cheese and sun-dried tomatoes.
Dressing Tweaks
Although the tangy red wine vinegar dressing is good, sometimes I prefer to just use mayo for a super-simple dressing which boasts a lovely creaminess everyone is going to love. You can add other flavors to the mayo too, like mustard, spices or dried or fresh herbs, as you like.
Use white pasta for the best result – perhaps penne, shells or another favorite. For pasta salad, avoid the long kinds like spaghetti or linguine, and go for something that's easy to pick up on the fork or scoop up in a spoon.
This recipe can be made quickly and easy, and it is an excellent pairing for everything from grilled chicken to burgers, steaks or even fish. Why not make a big batch for your next barbecue event or party? Continue reading →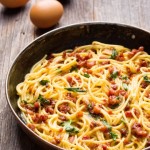 This is a classic Italian dish made with spaghetti, bacon and eggs. There are different variations – some people add cream or cream cheese, some will add parsley or another herb, and others will use whole wheat spaghetti over white spaghetti. However you prefer it, an easy spaghetti carbonara recipe is well worth adding to your culinary repertoire.
The following recipe is really simple, even if you are a newbie in the kitchen, and the flavor is amazing. This is good served with mixed salad leaves dressed with vinaigrette. Learning how to make spaghetti carbonara is a great idea if you want to serve something impressive but only have 2 pots on the stove.
When I made this easy spaghetti carbonara, I chose to add some cream cheese. It wasn't necessary (I mean, it would've been good without it) but I wanted some creaminess in there. The authentic spaghetti carbonara recipe is made without the addition of cream or cream cheese, but if you want to add some, well it's your dish! I also added turkey because I had some to use up and that was great in there. Continue reading →
Some More Hot Content For You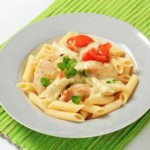 There is so much you can do with pasta, and also so many kinds to choose from. White or whole wheat pasta, penne, spaghetti, pasta twists, linguine… the list goes on. You can make hot recipes such as baked pasta dishes, or chilled ones like a salad. You can serve it as an entree or side dish, and there are many new pasta recipes to try.
Pasta is economical and filling, and there are plenty of wonderful Italian recipes using it. Try the big noodles to make lasagna, long pasta like linguine or spaghetti to serve with a meaty sauce, or pasta shapes to make pasta salad or to cling to a thick sauce.
Quick and Easy Pasta Recipes
If you want to make a pasta recipe in a hurry, simply cook a handful of dried pasta (per person) in boiling water until done (follow the instructions on the package) then drain in a colander, and toss with either pesto, cream cheese, sour cream, tomato sauce, or another sauce, adding in some cooked protein (shrimp, chicken etc) and diced cooked veggies. You can use leftovers or cook them fresh.
You can even add chopped veggies to the pasta during the final 3 minutes of cooking. Consider olives, anchovies, cheese, nuts, or anything else you like, along with a pinch of dried oregano or basil, and perhaps some salt and black pepper too. Continue reading →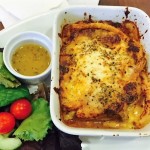 This Greek lamb pasta bake with feta is a delicious dish, pairing pasta with ground lamb, feta cheese and other Greek flavors. It is similar to pastitsio, Greece's answer to lasagna, and you will find it really delicious and warming.
Serve this Greek lamb pasta bake with feta with a simple salad on the side and a balsamic and extra-virgin olive oil dressing, or else just enjoy it by itself. If you're into carbs, a slice of lightly toasted baguette bread would go well with this Greek lamb pasta bake with feta too. There are so many pasta bake recipes to choose from, and the great thing about such a dish is you can use pretty much any kind of ground meat, any kind of cheese, and then choose your own herbs and spices to complement the flavors you have chosen to use.
Greek Lamb Pasta Bake with Feta – What Kind of Pasta?
You can use any kind of pasta for this Greek lamb pasta bake with feta. I often use penne pasta but recently discovered maccheroncelli which is a long, tubular pasta that is great with heavy sauces or in casseroles. Another similar type is perciatelle or you can use macaroni, penne, spaghetti… whatever you like really. Continue reading →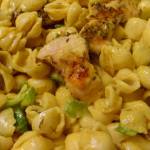 Pasta is not the first ingredient that should come to mind when you think about Indian cuisine because of course it is an Italian ingredient. However that is the beauty of fusion cooking. This Indian pasta salad offers some exciting flavors, all of which go together nicely. When combined they offer an exotic flair in what would otherwise just be a basic pasta salad.
You can find all kinds of ingredients in this Indian pasta salad which come together wonderfully. The neutral flavor of pasta along with its firm al dente texture means a spicy, aromatic dressing is sure to suit it instead of clashing. In the following recipe we are teaming our pasta and chicken breast with a fragrant Indian inspired dressing.
Taking inspiration from the classic English Coronation chicken recipe, this salad boasts plenty of exotic flair. Learn more about how British Indian cuisine began and grew and you will soon see how such dishes gained such popularity in the UK.
Serving Tips and Tweak Ideas for Indian Pasta Salad
This Indian pasta salad pairs well with a bunch or red grapes. Alternatively you could serve it over a bed of lettuce, or even just as it is for a 'lunch in a rush' at your desk. Feel free to tweak the ingredients. Perhaps you prefer to use turkey (or have some left over) instead of chicken. Maybe you'd like to swap the celery for green bell pepper or the slivered almonds for cashews.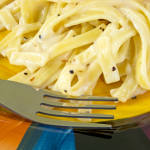 Although pasta goes great with all kinds of sauces, the gentle aromatic appeal of a white wine pasta sauce is something incredibly special. White wine pasta sauce is so easy to make and other ingredients which go well with the wine include garlic, butter and parsley.
A lot of these white wine pasta sauce recipes might include olive oil instead of the butter, or alongside it, and you can make such a sauce even if you don't really drink white wine, since you are just using it for a rich flavor and typically only need a splash.
When making a white wine pasta sauce, it is important to use a white wine you would drink, not something labeled 'cooking wine' or something you don't like, the reason being this is one of the main flavors in the finished dish, so use good quality ingredients and the resulting white wine sauce for your pasta will have a nice taste and not disappoint you.
Although whole wheat pasta is popular these days because of its fiber content, I like to use white pasta, and I also feel it goes best with a light, aromatic pasta sauce because white pasta has a more neutral taste so the flavors in the sauce will be more evident.
Continue reading →
Other Posts You Might Like