pastry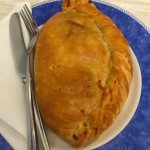 One of the most famous dishes to come from Cornwall, England (well apart from tea and scones of course) is the Cornish pasty. This delicious snack can be enjoyed hot, warm or chilled, and the beef and vegetable filling complements the flaky pastry perfectly. Knowing the traditional recipe for Cornish pasties means you can prepare this delicacy for your family at home.
Traditional Recipe for Cornish Pasties Dough
We are making the pastry for our Cornish pasty (pronounced PAH-stee) recipe as well as preparing the filling. For the pastry you will need flour, butter, egg yolks, salt and baking powder. It helps to have a food processor to prepare the dough, unless you want to do it by hand and use a lot of 'elbow grease'! The dough is then rolled out to your desired thickness and used to make rounds which are then filled with the filling. Then the dough for this traditional recipe for Cornish pasties is complete.
We are keeping things traditional for the filling, using beef, potatoes, onion, rutabaga (swede), salt and black pepper. Don't be tempted to put extras in there. This pie is best when the original recipe is used and don't worry – it will boast plenty of flavor. Continue reading →
Other Posts You Might Like