pie
I first tried this amazing corn pie in Chile and immediately fell in love with it. The ingredients might sound a little strange but it's really good, I promise! Some people use beef while others use chicken. The corn topping on this pastel de choclo recipe is crisp, sticky and sweet and the eggs, black olives and other ingredients lend authenticity.
Side Dish Options
What is a good side dish for our pastel de choclo? Well, I like it with a simple tomato, garlic and onions salad on the side, or you might want to steam some broccoli or another favorite vegetable instead. This keeps well in the refrigerator for a few days and is easy to reheat in the microwave.
What Kind of Corn to Use
Although some people prefer to use fresh corn when making a pastel de choclo recipe, I usually just use the canned kind which is fine in this corn pie as long as you drain it properly. Feel free to adjust the amount of sugar. It helps with the caramelization but my husband is diabetic so I usually use half sugar and half sweetener. Continue reading →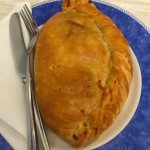 One of the most famous dishes to come from Cornwall, England (well apart from tea and scones of course) is the Cornish pasty. This delicious snack can be enjoyed hot, warm or chilled, and the beef and vegetable filling complements the flaky pastry perfectly. Knowing the traditional recipe for Cornish pasties means you can prepare this delicacy for your family at home.
Traditional Recipe for Cornish Pasties Dough
We are making the pastry for our Cornish pasty (pronounced PAH-stee) recipe as well as preparing the filling. For the pastry you will need flour, butter, egg yolks, salt and baking powder. It helps to have a food processor to prepare the dough, unless you want to do it by hand and use a lot of 'elbow grease'! The dough is then rolled out to your desired thickness and used to make rounds which are then filled with the filling. Then the dough for this traditional recipe for Cornish pasties is complete.
We are keeping things traditional for the filling, using beef, potatoes, onion, rutabaga (swede), salt and black pepper. Don't be tempted to put extras in there. This pie is best when the original recipe is used and don't worry – it will boast plenty of flavor. Continue reading →
Some More Hot Content For You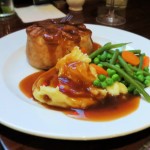 This British beef and ale pie is a gorgeous recipe and it makes a filling lunch or evening meal, served with plenty of mashed potatoes, carrots and peas or carrots on the side. We are using shortcrust pastry here which is sturdy rather than flaky, along with braising or stewing steak. The flavors inside come from Worcestershire sauce, tomato, ale or stout and beef stock.
Start with Great Pastry
Although you can make your own shortcrust pastry for this British beef and ale pie if you want to, it is much quicker and easier to use readymade shortcrust pastry, and it tastes about the same too. You will be lining the pie dishes with pastry, adding the prepared filling and then putting pastry lids on to enclose the tasty filling.
You will need six 4-inch (10 cm) wide by 1 1/4 inch (3 cm) deep individual pie dishes to make these pies. Another idea is to make the whole thing in one large tin then you can serve the British beef and ale pie in slices rather than making individual ones. Continue reading →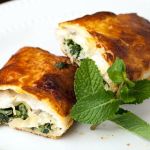 This amazing Greek dish is famed not only in Greece but anywhere in the world there are Greek people or Greek restaurants. I personally love Spanakopita Greek spinach pie and one slice is never enough! The joy of Spanakopita Greek spinach pie is that it is made with phyllo pastry. Adding melted butter between the pastry layers makes it really flaky and tasty. The filling is spinach, egg, 2 kinds of cheese, onion and parsley, and the flavor is simply amazing.
You can either make triangular servings or one large Spanakopita Greek spinach pie which is cut into slices. The method is the same but the large pie will take about twice the time to bake as the individual portions, so the choice is yours which to make. Although phyllo (also spelt filo) dough is more common, some recipes will tell you to make a flour and water crust instead which offers a heavier texture.
This type of dough is made in the Greek islands. Some recipes call for salty, white, fresh cheese to be used instead of the feta, and we usually add parmesan too, for a nice tangy contrast.
Continue reading →
Other Posts You Might Like