plus-size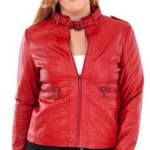 Although many stores carry plus-size fashion clothing these days for curvy girls, there are also stores designed with plus-size girls in mind where you don't have to rifle through the racks searching for your size and everything is generously proportioned. These days plus-size clothes are not what they used to be. There is so much more choice and you can get some gorgeous pieces, items designed to flatter your curves rather than hide them, and clothing to enhance your best assets while disguising your least favorite, and that is something every girl wants to do regardless of shape or size.
Range of Plus-Size Fashion Choices
Because of an increase in need for clothes and accessories in a plus-size range, there are plenty of fashion designers who focus on such garments so plus-size girls can find gorgeous fashions regardless of personal style. There really is something for everyone these days.
Go back a few decades and what was sold as 'plus-size fashion' really shouldn't have been called 'fashion' at all and you might as well have thrown a tent on. These days, a lot more care and attention to detail goes into the design of plus-size garments, so whether you are planning to go to work, to the gym, shopping, to a friend's house, or a fun night out on the town, you should be able to find some gorgeous fashions. Continue reading →
Other Posts You Might Like