pork shrimp wonton soup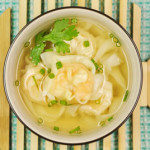 These flavorful pork wontons feature shrimp, ginger, green onion and more. Try pork and shrimp wonton soup for your supper tonight and enjoy the fresh flavors. Pork and shrimp wontons are usually served in authentic wonton soup recipes and if pork and shrimp go together better than you might imagine. If you have ever tried bacon-wrapped shrimp, you will know this is a match made in heaven. Pairing pork and shrimp means you will have a delicious wonton filling for your wontons. In addition to the pork and shrimp, the wontons feature ginger, soy sauce, Chinese rice wine and more, for a traditional wonton feel and a mouthwatering finish.
How to Make Pork and Shrimp Wonton Soup
For this pork and shrimp wonton soup, first you need to make the wonton filling, then fill and seal the wonton wrappers and finally simmer then in chicken stock for a bit. The finished soup is light yet satisfying and if you are looking for wonton soup recipes which are easy enough for a beginner to master immediately, this might be a nice one to start off with. The wonton soup is hearty and satisfying, so it would be perfect for a cold evening, but it is also light and delicate enough to work well as a spring or summer meal.
This free wonton recipe gives you an idea how easy it is to make authentic wonton soup to delight your family, and it is quick to make too. Everyone will love this pork and shrimp wonton soup. The wonton filling mixture should be left to stand for half an hour, to intensify and blend the flavors, but once the chicken stock reaches a simmer, you can drop the wontons in, and they only take about four minutes to cook. The soup is then ready to be ladled into bowls and served piping hot. Continue reading →
Other Posts You Might Like