pork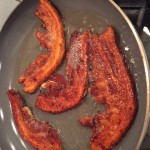 I've been living in Holland for several years and cooked speklappen, also known as speklapjes, for my husband a number of times. Speklappen or speklapjes (the same thing) means pork belly slices. You can get these quite cheap and they are easy to cook. Also, you can use them in a number of different recipes including the following Dutch speklappen or speklapjes recipe.
The best way to cook these is in a little oil. Get the oil hot in a skillet or frying pan, then add the speklapjes in one layer and fry them. You will see them turn golden brown and crispy. Flip them halfway through  cooking so they cook evenly on both sides.
You can then toss them in your favorite Asian sauce and serve them over egg noodles or egg fried rice, or else have them over mashed potatoes with gravy, or just serve them as they are with your chosen side dishes. That's how simple it is to prepare a Dutch speklappen or speklapjes recipe which the whole family will enjoy.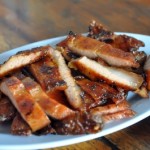 Pork tenderloin suits flavors like fruit, apple or even ginger, which is why we are using ginger in this roasted pork recipe. Along with thyme, the ginger gives the pork a really good flavor, and after the pork is cooked, we are giving it a couple of minutes under the broiler just to crisp up the top and caramelize the preserves, adding a mouthwatering sweetness and crunch. This ginger roasted pork recipe is sure not to disappoint.
This is wonderful served with mashed potatoes and perhaps some roasted vegetables. You might want to arrange some chopped veggies around the pork and roast them together. Leftover pork can be served with potato salad and some baby salad leaves the following day perhaps, or used to make sandwiches.
Swap the Ginger for Another Flavor if You Want
If you prefer to use another kind of preserves rather than the ginger, then that would be OK. Try some kind of dark berry such as blackcurrant or black cherry, or even apple preserves. The thyme can be omitted if you don't have any or else why not try marjoram instead?
An Important Tip for your Ginger Roasted Pork
It is important to let the pork rest for 10 minutes when you take it out of the oven. This allows the juices to redistribute in the meat and makes for a better, juicier result. This recipe is really easy and you will love how the pork tastes. Pork is cheap, tasty and full of flavor. It makes a great change from the quick and easy pasta, pizza and chicken recipes you might often find yourself making mid-week for lack of other inspiration.
Continue reading →
Some More Hot Content For You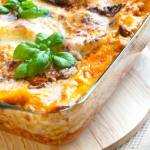 This delicious lasagna with ricotta and Italian sausage is a snap to make and it freezes well too if you wrap individual portions in plastic wrap and then aluminum foil. Simply unwrap and reheat any time you want to enjoy this ricotta lasagna again. If you want to use ground beef rather than the Italian sausage, go ahead.
Tasty Lasagna with Ricotta and Italian Sausage Additions
Some people like to add some sage to the sausage or use sweet sausage instead of the hot kind and add some red chili flakes. You know which you like best, so go ahead and choose your favorite kind when preparing this lasagna with ricotta and Italian sausage. If you want to use a ready-made, herbed tomato-based sauce rather than the tomato sauce and canned tomatoes, again go ahead.
As well as our basic ingredients in this lasagna with ricotta and Italian sausage recipe, which are the meat, 3 cheeses, lasagna noodles and tomatoes, we are using garlic, parsley, oregano, basil to add aromatic accents to the overall flavor of this dish. After preparing the various components we are going to layer them in a glass lasagna dish, then bake the lasagna in the oven.
Continue reading →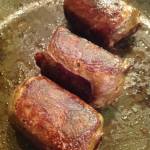 Slavink is a Dutch meat recipe you will spot in grocery stores in the Netherlands, nestled in the pork area. These can best be described as a rectangular meatball wrapped in bacon. Go back in history and you will find a Dutch slavink recipe was originally a small songbird wrapped in bacon.
In the south of Europe you can still find such a dish despite many people trying to outlaw the dish, but the modern Dutch version used ground beef and/or pork instead. In fact many of them use a half beef/half pork mixture to create a Dutch slavink recipe which is popular locally.
Butchers in the Netherlands make their own slavinken, which is the Dutch plural of slavink. We suggest you make a batch of them too because they freeze well. If you want to do this with your Dutch slavink recipe , wrap them individually in plastic wrap and then put them all in one large Ziploc bag. Let them thaw overnight or for at least 12 hours before using.
The size you make the slavinken is up to you. Some people make them big, like one per serving, while others prefer smaller ones – several per serving. Because these Dutch meatballs are wrapped in bacon which releases fat in the pan, you will not need to add much, if any fat to the pan. Serve them with mashed potatoes, mushrooms and onion, for a traditional Dutch recipe.
Continue reading →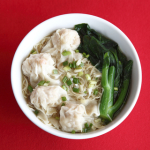 Traditional Chinese food recipes are fascinating and following these will allow you to prepare the meal as it has been made and enjoyed for centuries. Every element of the authentic Chinese wonton soup recipe including the ingredients, preparation and serving suggestions are authentic.
The original style of preparing and cooking the Chinese recipes are incredible, and will allow you to indulge in top quality Chinese foods, keeping things traditional at every stage.
Ensuring that Chinese Food Recipes are Traditional
You may enjoy Chinese food, but what you purchase in the local takeout or eat at a Chinese buffet is unlikely to be traditionally Chinese. This means if you have the opportunity to experience traditional Chinese recipes as they should be prepared, you will be surprised. The taste, texture and preparation methods are likely to be incredibly different. Try this authentic Chinese wonton soup to start your taste buds off on your culinary journey.
Continue reading →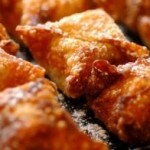 Wontons are great when served as a snack or appetizer and if you have only ever eaten meat ones in a Chinese restaurant or had them from a takeout, you really are in store for a treat when you make your own easy wonton recipes with pork. Any home cook will be able to manage this recipe without too much effort although, like with most dishes, the more you make these, the easier the process will seem to become.
Different Cooking Methods for Easy Wonton Recipes with Pork
Deep-fry them for crispy, crunchy snacks, or steam or simmer them for a softer result. You could even poach them in your favorite broth for a wonderfully warming lunch or supper. Yes wontons really are that versatile and you can choose whether you want them for an appetizer or the main dish, choosing whether you make a few crispy ones to kick off your dinner in style, adding an oriental accent to the meal, or prepare a homemade wonton soup full of delicious homemade wontons.
Another possibility is potstickers, those soft wontons with a crispy side that are made in a pan. Any of these would make a wonderful appetizer or entree. Nothing beats wontons sometimes, and there are easy wonton recipes with pork for every palate.
Continue reading →
Other Posts You Might Like