potato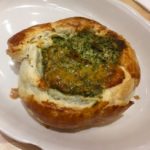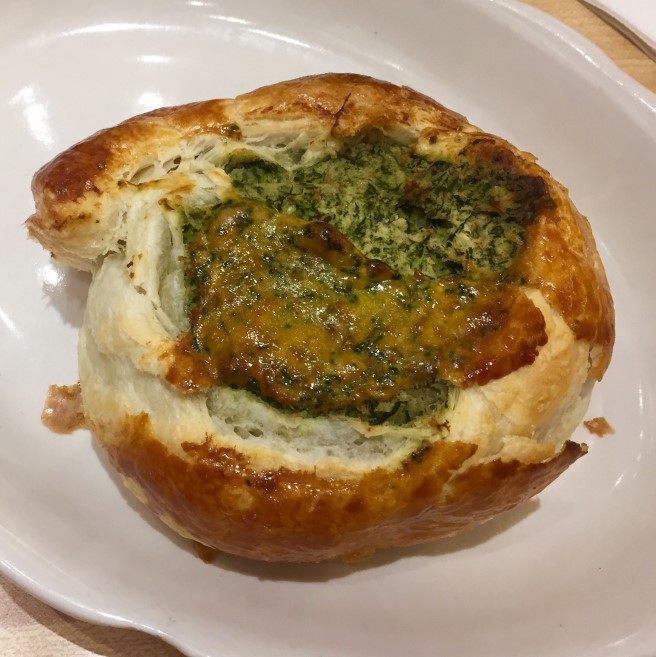 I first tried spinach potato knishes (pronounced kuh-NISH-es) at Kenny and Ziggy's in Houston TX, and wow was this some spectacular comfort food. I'm British so I am used to Cornish pasties (a tasty pastry-enclosed meat and potato recipe from the southwest corner of England) and I also enjoy pastry-wrapped or pastry-enclosed vegetable recipes for lunch or as snacks.
What are knishes, I asked myself, perusing the menu. Google to the rescue and I read the description. My mouth began to water and I thought wow I have to order these! So, now you're asking what are knishes exactly? Well this tasty Jewish recipe is a savory pie. Knishes can be filled with potatoes, meat, sauerkraut, kasha, cheese, onions, spinach or a combination of these. Knishes may be baked, grilled or fried. The flavor remains similar but the spinach potato knishes texture varies depending on the cooking method employed.
Spinach potato knishes, which like the others are vegetarian knishes, can be compared to other pastry appetizers or baked dumpling type dishes, such as empanadas from Mexico, pasties from the UK, calzone from Italy or pirozhki from Russia. You can also compare the format and flavor to Jamaican patties, southeast Asian curry puffs, South and Central Asian samosas, Middle Eastern fatayers and Portuguese rissols.
Continue reading →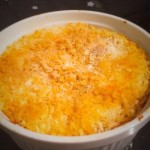 So what do you do when you have leftover mashed potatoes? It's a waste to throw them out, but who wants to reheat them and risk cold lumps or dried out mash? Let me come to your rescue with my best leftover mashed potatoes recipe ideas.
Through experimenting I've come up with a really good way to use up leftover mashed potato, and this recipe is easy to make and really good. It goes with everything! I made the original mashed potatoes using half Carisma and half sweet potato (my husband's diabetic so we avoid regular mash) but as usual I made too much!
One of the Best Leftover Mashed Potatoes Recipe Ideas
I mashed a little sour cream into the leftovers, then spread them in a baking dish, topped with parmesan and panko breadcrumbs, and baked in the oven until hot, and until the panko was golden brown. The flavor is really good. The potatoes are piping hot and the texture stays the same. It doesn't taste like reheated leftovers. Trust me, this is one of the best leftover mashed potatoes recipe dishes you can make.
There are other things to do with leftover mashed potatoes, such as combining them with leftover vegetables, covering in flour and pan-frying in oil until crispy, but this crispy panko mashed potatoes dish is especially good.
The following best leftover mashed potatoes recipe doesn't mention quantities because I don't know how much leftover mash you have, but just use a little sour cream then add parmesan and panko to cover in a thin layer. If the panko browns too fast, wrap some foil around the baking dish. If it doesn't brown enough give it a couple minutes under the broiler at the end.
Continue reading →
Some More Hot Content For You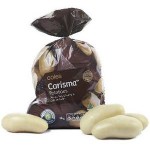 When my husband was diagnosed with Type II diabetes a few months back, he was told to avoid sugary foods along with processed food, white potatoes, white pasta, white rice, milk chocolate and, well, the list went on. Being a Dutchman he is very into bread and potatoes so he thought those would be hard to quit. He eats whole wheat bread and the occasional sweet potato, both of which are OK for him, but I knew he missed the other stuff. And then we discovered Carisma potatoes!
Carisma Potatoes – How We Discovered Them
Anyway, to cut what could be a long story short, last weekend at the supermarket I spotted something called 'Carisma potatoes' and couldn't believe it when I read the package and discovered they were diabetes-friendly! Diabetic potatoes? How could it be? I decided to buy a package and see what they were like. I wasn't sure about Carisma potatoes, since I'm not keen on most low-carb breads and candies, and I don't know if you've tried low-carb 'pasta' but yeuch!
Carisma potatoes are oval in shape and they have a pale, thin skin. The Carisma potatoes package advises you they can be boiled, mashed or used to make potato salad. To keep them low GI, leave the skin on. The reason for this is that is how they were prepared when their GI (more about that in a minute) was tested. I boiled them, sauteed them, mashed them and also made a potato salad to try them out, and I was really impressed, as was my husband!
Continue reading →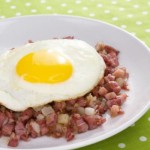 This corned beef hash recipe is fantastic and it is versatile enough to be breakfast, brunch, lunch, or just a comfort food snack if you are in the mood for it. The twist is the cream in the recipe and even though that might sound like an odd ingredient for corned beef hash it totally transforms it from good to great, so give this recipe a try and this might be how you make your corned beef hash from now on.
As well as the potatoes and corned beef you will need butter and cream to add a luxurious mouth feel, onion and bell pepper to add nutrients, color and crunch, and some eggs if you wish to garnish your corned beef hash with fried eggs (and that really finishes the dish off beautifully!)
Once the potatoes have been cooked to just tender, you need to drain them well. While the last drops are draining off, you can pulse the corned beef in your food processor, not for long, just until it is chopped coarsely. Continue reading →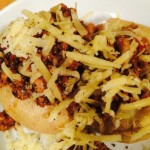 Chili is always good, especially when served on a baked potato with some grated cheese on top, and perhaps also some sour cream or guacamole if you like it. Try chili with baked potato for lunch and see how satisfying this dish is.
Chili is versatile enough to be tweaked a lot, so not only can you choose how spicy you want it but you can also choose the ingredients which go in there, such as kidney beans or another kind of bean, garlic, even some grated Mexican chocolate or cocoa powder if you wish.
This recipe shows you how to make a simple chili con carne recipe using ingredients guaranteed to come together seamlessly and offer an abundance of flavor. Feel free to make your own tweaks.
A vegetarian might prefer to use Quorn or TVP rather than the meat, while someone who isn't keen on beans might prefer to leave them out and perhaps add some chopped red bell pepper to the chili mixture instead. The choices is yours. Continue reading →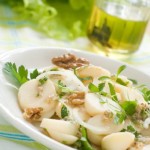 Potato salad is always good, but what if you are in the mood for an elegant gourmet potato salad with walnuts rather than the comfort food style? The following recipe shows you how to add a gourmet twist to this all-American classic recipe, making it perfect for any special occasion.
Potato salad offers not only delicious flavors but also a softness in the mouth, and it is this soft texture that we love. This gourmet potato salad with walnuts recipe features walnuts however, to add an unusual crunch to the dish. You will love how well the sherry vinegar and walnut oil combine, as well as how the other flavors work so nicely in the dish.
Gourmet Potato Salad with Walnuts: Herby and Tasty
The minced fresh herbs work especially nicely in the dish, and you can add some minced chervil to the herbs mixture if you wish. Also, feel free to add other ingredients to the finished salad, such as blue cheese or bacon, if you want to make it more substantial, or serve it as an appetizer rather than a simpler side dish. Continue reading →
Other Posts You Might Like