rice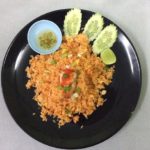 This is a wonderful side dish to have with chicken, pork or another kind of meat, or you could enjoy it by itself for lunch or a light evening meal. Thai fried rice with egg is similar to the Chinese egg fried rice you might be more familiar with. We are just including typical Thai flavors instead of Chinese ones.
This only takes about 5 minutes to make because you are warming up the rice, cooking the vegetables to al dente (which doesn't take long) and cooking shrimp (which doesn't take long either!) If you prefer to use chicken or another protein, shredded cooked chicken can be tossed in at the end with the green onions, and just warmed through. You can also omit the chicken for a vegetarian version of the dish.
What Else is in Thai Fried Rice with Egg?
Known as khao phat in Thai (since khao means rice and phat means stir-frying) this dish is often made with shrimp, chicken or crab, along with onion, garlic and perhaps tomatoes as well.
Traditionally Thai fried rice is made with Thai jasmine rice, but you can use any kind of leftover cooked rice to make it. Fish sauce and soy sauce are typical flavorings, and we also love a little oyster sauce in the mix. A pinch of sugar is good if you want to add sweetness. Continue reading →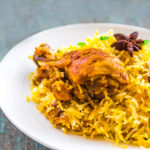 This tasty Indian dish, chicken biryani with drumsticks, offers an incredible flavor and it is not difficult to prepare. I had my first authentic Indian biryani when I was backpacking around India and the flavor really blew me away.
This recipe originated in the Indian subcontinent or Persia, and it is enjoyed all over Central and South Asia, as well as in the Middle East. Rice, spices and meat and/or vegetables are the main ingredients.
Biryani may be compared to pulao rice but biryani is usually cooked with layered meat and rice and pulao is not layered at all. Chicken biryani with drumsticks is usually a main dish while pulao tends to be more of a side dish.
How Biryani Gets its Flavor
Popular ingredients in an Indian biryani recipe include clarified butter (known as ghee), coriander, cinnamon, cardamon, cloves, ginger, garlic, onions, and nutmeg, but every recipe is different. Saffon can be added to the dish, and some will use turmeric or yellow food coloring to color the rice. Continue reading →
Some More Hot Content For You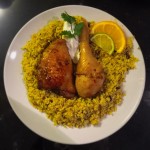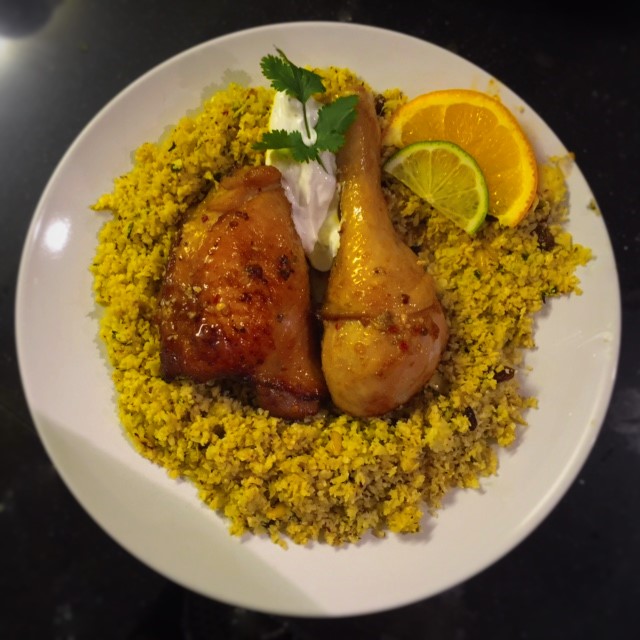 Cauliflower rice, or cauli rice as it is affectionately  known, is a wonderful substitute for rice, offering a mere fraction of the calories and carbs or rice, yet offering a very similar texture and a neutral flavor. You can do so much with it and there are plenty of cauliflower rice recipes to choose from. This cauli rice with orange, lime and cilantro recipe is easy to prepare and it's yummy!
I like to use a medium or strong-flavored sauce to disguise the cauliflower flavor – not that cauliflower has much of a taste at all, but just to make it as rice-like as possible. Try Chinese rice with cauliflower instead of rice, or consider Mexican cauli rice or Italian flavors.
It is easy to prepare this cauli rice with orange, lime and cilantro recipe if you have a food processor. Simply break a fresh cauliflower into florets and whiz them in the food processor until rice grain-sized. If you don't have a food processor that is okay, just use a cheese grater instead. It will take longer and you will get a similar result. Continue reading →
Knowing how to make cauliflower rice is very handy whether you are looking for a low-carb substitute for rice, you are trying to cut down your calories, or you simply want to use up a cauliflower or sneak some added nutrients into your meal. Try this Mexican cauli rice dish for yourself and you'll be amazed how good it is.
This Mexican cauliflower rice recipe is simple to prepare, and it is something you can tweak to your heart's content. The first thing you need to do of course is transform your raw cauliflower into rice-sized pieces, and the easiest way to do this is to put it in the food processor with a blade attachment and whiz it for a few seconds.
How to Make Cauliflower Rice
If you don't have a food processor though, you can do it in the blender or else use a box grater to do it by hand. You can use the whole cauliflower apart from the leaves and the woody part right in the center. Don't use thawed cauliflower for Mexican cauli rice because it is too mushy to separate into the rice-shaped bits. Continue reading →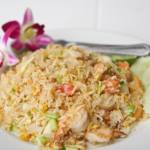 This is very typical food in Thailand, and you can find Thai fried rice with shrimp (or chicken or another protein) served everywhere from a food stand on the street corner to a fine Thai food restaurant. There are different ways to make Thai fried rice with shrimp and you can usually specify which meat you want to have in there. When making Thai fried rice, you can use up any meats or seafood and veggies left in the refrigerator so if you have leftovers it is a great way to use them up.
More about Thai Fried Rice with Shrimp
Unlike Chinese fried rice and some other kinds, Thai fried rice comes with a wedge of lime on the side along with prik nam pla, which is chilies and fish sauce combined together. Use the following recipe as a starting point, adjusting the ingredients to match what you happen to have available.
It is always best to use day-old cooked rice to make your Thai fried rice with shrimp, because freshly cooked rice is too moist and will steam instead of fry. If that isn't possible though, just ensure your rice has time to cool down because this will dry it out quite well.
If you want to make your own prik nam pla (fish and chili sauce) to serve with this (and you really should, for an authentic Thai rice flavor!) then you should put 3 tablespoons of fish sauce in a bowl and add 4 sliced Thai chilies. Squeeze in the juice of half a lime if you like, although the lime is optional.
Continue reading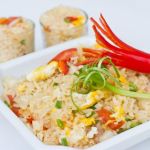 Egg fried rice without soy sauce is a dish lots of people want to make but since soy sauce is one of the key ingredients it can be puzzling working out how to get around that. Fried rice is one of the best-known Chinese dishes, but the authentic recipe is quite different to what you might be used to. For example, have you tried making egg fried rice without soy sauce? That is how it is made in China, well in many parts of the country, and the more authentic option in many cases.
Egg Fried Rice without Soy Sauce: Such a Tempting Dish to Make
Egg fried rice is the dish to make when you want to use leftovers to rustle up something quick and easy, something comforting and tasty, something literally anyone can make regardless of culinary expertise or cooking experience.
This egg fried rice without soy sauce dish is easy, folks, and delicious too! But before you grab your wok and leftovers, you need to know a few tips about how to make the best egg fried rice recipe ever.
Egg fried rice is found all over the globe, either the authentic version or something more tailored toward the country in question. In China, egg fried rice is considered a meal rather than a side dish, and it might be enjoyed for breakfast, lunch or dinner.
Other Posts You Might Like