runes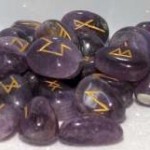 What are rune stones? Well, rune stones, or runes as they are also known, are a system of communication, decision making and divination. There are 24 runes in a set and they are like an alphabet of the North and North Central Europe.
To Buy or Make Rune Stones
You can buy runes from New Age shops or online, but a lot of people like to make their own, and you can use stones or discs made from wood.
Rune stones are often engraved but some are painted or drawn on instead. One way to make your own runes would be to find 24 similar size pebbles or cut 24 discs out of wood, and write on each one with a black marker pen. Continue reading →
Other Posts You Might Like