salad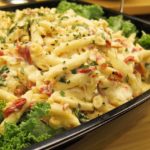 Pasta salad is always a winning dish. It is cheap to make, you can use leftover cooked pasta or cook some in about 10 minutes, and there are all kinds of flavors you can add to this easy pasta salad with parmesan cheese.
In this recipe we are keeping with the Italian theme (although you might like to look at our Indian pasta salad for a wonderful fusion idea!) by incorporating parmesan cheese and sun-dried tomatoes.
Dressing Tweaks
Although the tangy red wine vinegar dressing is good, sometimes I prefer to just use mayo for a super-simple dressing which boasts a lovely creaminess everyone is going to love. You can add other flavors to the mayo too, like mustard, spices or dried or fresh herbs, as you like.
Use white pasta for the best result – perhaps penne, shells or another favorite. For pasta salad, avoid the long kinds like spaghetti or linguine, and go for something that's easy to pick up on the fork or scoop up in a spoon.
This recipe can be made quickly and easy, and it is an excellent pairing for everything from grilled chicken to burgers, steaks or even fish. Why not make a big batch for your next barbecue event or party? Continue reading →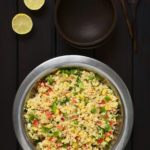 This is such a refreshing salad and it's easy to make. We are using regular couscous but if you like Israeli couscous that is also fine, or you could consider bulgar wheat for a result for like tabbouleh. This couscous salad with parsley and lime is zingy, refreshing and really tasty.
The key to making a good couscous salad is freshness. I find the more fresh ingredients it contains the better it is, so grab some tomatoes, cucumber, parsley and limes, along with the other ingredients, and you will be able to rustle up this delicious dish and experience all the amazing fresh flavors the way they are supposed to be enjoyed.
How to Serve It
Serve this as a salad or side dish (it's especially good with grilled fish or chicken) or consider taking it to work as a special lunch, served with pita bread or crusty bread on the side. This would also be great to take to a potluck buffet because it always goes down well and it's unlikely someone else will be making the same dish as you. I find that couscous salad with parsley and lime is something everyone is going to ask the recipe for!
If you have leftovers, keep the salad in a covered container in the refrigerator and use it within 2 days. You can swap the lime zest and juice for lemon if you prefer. Lemon is probably more authentic, although we like the special zing lime gives the salad.  Continue reading →
Some More Hot Content For You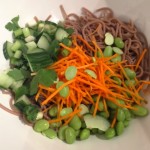 I love all kinds of noodles but soba noodles are my favorite. The word 'soba' means 'buckwheat' in Japanese and it also refers to thin, buckwheat noodles. In Japan the word refers to any thin noodles. These can be served hot or cold, with a dipping sauce or in soup or you could make an easy soba salad. Buckwheat can be harvested 4 times a year because it takes 3 months to reach maturity and be ready for harvesting.
Soba noodles are sold at railway stations in Japan, and they also feature on the menus in high-end restaurants, making them a versatile component in a variety of dishes, not just easy soba salad recipes.
Soba noodles are often drained and chilled in the summer, or served hot with a soy dashi broth in the colder months. Easy soba salad is a popular summertime treat. They might be served with soba tsuyu, a type of dipping sauce, on the side, and maybe bits of dried nori seaweed on top.
The diner will use chopsticks to pick up some noodles and dip them in the sauce. Green onions and wasabi might be mixed into the sauce. Hot broth changes their consistency, which is why a lot of people prefer to have them cold. In Japan, the water in which the noodles were cooked is often drunk after the noodles have been eaten, with the leftover sauce mixed in for flavor. Continue reading →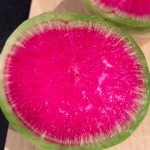 What is a watermelon radish, you might be wondering. It could be you have spotted watermelon radishes at your local market and you are curious what to do with such a vegetable. What kind of watermelon radish recipes are there? Maybe you are looking for a good watermelon recipe. Well I purchased some of these at my local market, and I have been experimenting!
First of all, what is a watermelon radish anyway? Well, this vegetable is an edible globular root with green leaves and thin stems. The outside is whitish and the flesh is bright pink. It is tender-crisp and firm in texture. It tastes mild and a little peppery. You might taste some almond in there when enjoying your watermelon radish recipes.
This vegetable varies in size between a golf ball and a softball, and you should choose ones which have smooth crack-free skins. You can get watermelon radishes all through the year, although spring and late fall are the peak season for them. This heirloom Chinese daikon radish belongs to the mustard (brassica) family. A watermelon radish is a good source of vitamin C, especially when you enjoy it raw. Continue reading →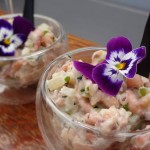 This Old Bay shrimp and apple salad is a gorgeous recipe. It looks really nice served in little glasses with edible flowers as a garnish, but it can also be served over lettuce or baby salad leaves if you prefer. This Old Bay shrimp and apple salad is a nice way to begin any kind of meal, and it is especially good during the summer when you don't want to cook.
We are using shrimp, and you can use little ones or chop larger ones. Make sure they are peeled and deveined first. Canned or thawed shrimp are fine here. You will also need some red apple and onion for crunch. The dressing for our Old Bay shrimp and apple salad is made with mayonnaise, Worcestershire sauce, Old Bay seasoning and lemon juice.
Old Bay Shrimp and Apple Salad Tweaks
If you want, you can add other ingredients to the Old Bay shrimp and apple salad mix. We suggest diced celery, chopped walnuts or diced cheddar cheese. You might even want to add a little fresh dill weed or chopped chives. The recipe is nice as it is, so you might not want to add anything else to it. Also take care not to overwhelm the delicate flavors by adding too many other flavors to the mix.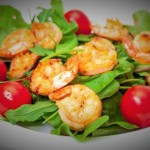 Shrimp is a great addition to salad recipes. It offers a subtle, light flavor and goes well with many other salad ingredients. A base of salad leaves or spinach can be topped with hot, warm or chilled cooked shrimp along with other things like pineapple chunks or mandarin segments for sweetness, walnuts or cashews for crunch, cherry tomatoes for color and anything else you want to add to your healthy easy shrimp salad recipe.
You can cook shrimp in various ways, such as deep-frying, stir-frying, boiling, baking or grilling. If you want to pan-fry the shrimp, they will only take a couple of minutes, as will boiling or grilling, although if you want to grill or bake them, you will need to wait for the grill or oven to heat up first. Then cook them to perfection for your healthy easy shrimp salad recipe.
How Do You Know When Shrimp is Cooked?
Shrimp starts off a grayish color and turns pink when it is ready. When you see this color change it means your shrimp is done.
A healthy easy shrimp salad recipe belongs in various cuisines. You might like to keep the ingredients very simple and add some ranch or caesar dressing for an American flavor, marinate the shrimp in soy sauce to give them an Asian flavor, or even saute them with curry powder and other spices then serve them with a yogurt-based dressing for an Indian taste on your plate. Continue reading →
Other Posts You Might Like