salmon
Salmon is a powerhouse of nutrition. This salmon in mustard cream sauce recipe is just one idea for incorporating this juicy fish into a recipe. Wild-caught salmon boasts sweetness as well as a fatty touch which balances things out beautifully for the perfect mouth-feel.
This would be beautiful with any kind of potatoes – mashed, boiled (with dill weed!) or crispy and roasted, along with your favorite green vegetable. Broccoli, zucchini (courgette) and green beans are definite contenders. Personally I love grilled green asparagus, so consider that as well.
If you want to double up on the sauce it would make a fine vegetarian dip for chips, bread or veggie crudites. If you are serving this with mashed potatoes, simply ladle some of the extra sauce over those too. We are going to broil (UK: cook under the grill) the salmon for optimum results, and you will find the other ingredients add plenty of appeal to the overall flavor. Continue reading →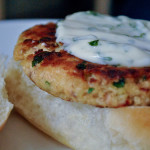 Whip up some of these easy salmon patties with breadcrumbs and you have a quick and easy evening meal for the whole family. I use canned salmon to make these easy salmon patties but you could use tuna instead or even crab. Just ensure it is drained well before incorporating with the other ingredients. Drain the salmon in a sieve and then combine it with a beaten egg, some onion and breadcrumbs, and that is all you need to add to make easy salmon patties with breadcrumbs.
If you want to add extra ingredients though, go ahead and consider herbs, garlic, or anything else you wish to throw in there. I use a food processor to combine the ingredients.
When making hamburgers (with meat) you need to take care not to over-mix because the burgers can become tough but with canned salmon it doesn't matter, and you will only need a few quick pulses in the food processor to combine the ingredients anyway. If you don't have one, you can simply stir or mash the ingredients together, and the same applies if you prefer a chunkier texture in your easy salmon patties with breadcrumbs. Continue reading →
Some More Hot Content For You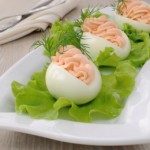 How pretty do these salmon pate stuffed eggs look? This recipe takes deviled eggs to the next level, by combining the egg yolk with salmon, lemon and creamy ingredients to make a pale pink, delicious-tasting appetizer. One or two egg halves per person is a good estimate although some people won't be able to stop munching on these lovely little snacks.
There are different ways to prepare these salmon pate stuffed eggs. You can make them the traditional way by slicing the eggs in half lengthwise or you could remove a wedge from the top (like in the picture) for a different look.
How to Add the Salmon Pate Stuffed Eggs Filling
The salmon pate stuffed eggs filling is better piped in with a piping bag (or a plastic bag with the corner cut off) but if you don't have one or you don't want to pipe, you can simply spoon the filling in. Chill the salmon deviled eggs for half an hour then serve them perhaps with some snipped chives on top or with some fresh herb sprigs. Maybe add some lemon wedges to the platter too.
This tasty snack is easy to prepare and you can make them ahead, making them ideal buffet food or party snacks. If you're making them any more than half an hour ahead though, cover them with plastic wrap before popping them in the refrigerator. Be careful not to wrap them too tight – you won't want to ruin your carefully piped filling.
Continue reading →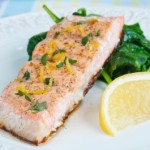 This is an incredibly easy recipe and a great way to prepare salmon. Here we are adding lemon and lime juice to the fish, along with lemon and lime zest if you like. You could stick to either lemon or lime or, like I prefer to do, use some of each for a more interesting flavor in this lemon and lime salmon recipe. Add the zest too if you want, to add more citrus flavor to the salmon and also to add a decorative touch.
Last time I made this lemon and lime salmon recipe, I sprinkled some Old Bay seasoning over the salmon. I wasn't sure whether my husband would like it because he hates celery and celery seed is a major ingredient in Old Bay but he did so that worked out well! I love Old Bay with crab cakes and other seafood dishes, and actually it's great with salmon as well, especially with lemon and lime salmon.
For Lemon and Lime Salmon, Remember: Fresh is Best!
If you only have bottled lemon and lime juice, use that for the lemon and lime salmon, but honestly it pays to use the fresh stuff because it really is better, plus you can serve some lemon and lime wedges on the side too which always looks nice. Serve this with spinach, snow peas or broccoli, and perhaps some mashed potato too or a potato salad if you prefer. You might even prefer a different grain such as couscous or quinoa.
Continue reading →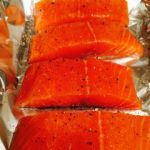 There are plenty of ways to cook salmon filets, which is good news if you love this tasty, healthy fish. Salmon is one of the most popular choices when it comes to fish, along with tuna and cod. These 3 fish are often known as 'the big 3' because they are so popular. Salmon has a distinctive flavor which pairs well with just about any cuisine, whether you are adding teriyaki and sesame seeds, hoisin or soy sauce for an Asian feel, lemon and parsley along with white wine for a Western European dish, or even barbecue sauce, avocado and tortillas for a Tex-Mex feast.
So what are some of the ways to cook salmon filets? Well salmon can be baked, broiled, grilled, pan-fried, poached, deep-fried, microwaved, steamed, or cooked on the barbeque. It can be cooked in a pressure cooker or crockpot, and you can even eat it raw as carpaccio or sushi perhaps. A salmon filet is a beautiful ingredient to use, regardless of which recipe or cooking technique you are opting for.
The biggest mistake you can make is overcooking the salmon. Regardless which ways to cook salmon filets you prefer to use, avoid overcooking at all costs! A lot of recipes say when the fish flakes easily it is done but actually if it flakes easily it is slightly overdone! I cook salmon filets until the center is still ever so slightly glossy and the rest is opaque, because it keeps cooking after being removed from the heat, and this ensures the moistest result. If you prefer your salmon more done, then go ahead and cook it a little longer.
Continue reading →
Other Posts You Might Like