sausage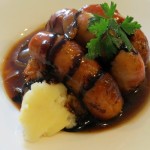 What is bangers and mash, you might be wondering, and how do you make a British bangers and mash recipe? Well, one of the most popular examples of British comfort food, bangers and mash is a dish of bangers (sausages) with mash (mashed potatoes). It is usually served with thick brown onion gravy drizzled over the top.
I like to use plenty of onions in this British bangers and mash recipe or even forgo the sauteed onions and make a delicious onion gravy. You can use any gravy you want, either making it the lazy way with gravy granules or, if you prefer, making your own from scratch.
What Kind of Sausages for a British Bangers and Mash Recipe?
Choose big, fat sausages for making a British bangers and mash recipe. It is not a recipe for chipolatas or dainty little cocktail sausages. Although you can use pork sausages, beef ones are really good here, or you might like to try venison sausages to take this dish a little more upmarket; if so, add some minced garlic to the mashed potato.
Do you want to serve something with this British bangers and mash recipe? Consider broccoli, green beans or another green vegetable to round out the meal. Carrots would also work here.
For the drink, what about a cold apple cider or glass of beer? A light, fruity red wine (very lightly chilled) would also work if you are serving this British bangers and mash recipe and you want some wine. This makes an excellent weekday recipe for the whole family. It serves 8 so you can halve the recipe unless your family is huge or you are having friends over too!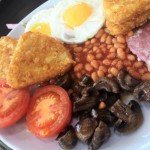 An English breakfast, often known as a full breakfast in England, is a breakfast meal which usually includes back bacon, fried, scrambled or poached eggs, sausages, and sometimes tomatoes, mushrooms, hash browns (yes they're American not English, but popular these days!), black pudding, baked beans, toast or fried bread, and tea or coffee. Want to know how to make an English breakfast yourself? Read on for some tips.
Bubble and squeak (mashed potatoes and cooked vegetables mashed together and fried) sometimes feature, while in the North you might get fried or broiled oatcakes instead of fried bread or toast.
How to Make an English Breakfast as an All Day Breakfast
Some pubs and cafes in England offer an 'all day breakfast' so you can enjoy this tasty meal whenever you like, whether you wake up late but not late enough for lunch, or you just crave a delicious English breakfast later on in the day. Another name for this type of breakfast in the UK is 'fry up' because most items on the plate are fried. Learn how to make an English breakfast and you can make this today. Continue reading →
Some More Hot Content For You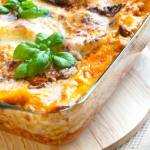 This delicious lasagna with ricotta and Italian sausage is a snap to make and it freezes well too if you wrap individual portions in plastic wrap and then aluminum foil. Simply unwrap and reheat any time you want to enjoy this ricotta lasagna again. If you want to use ground beef rather than the Italian sausage, go ahead.
Tasty Lasagna with Ricotta and Italian Sausage Additions
Some people like to add some sage to the sausage or use sweet sausage instead of the hot kind and add some red chili flakes. You know which you like best, so go ahead and choose your favorite kind when preparing this lasagna with ricotta and Italian sausage. If you want to use a ready-made, herbed tomato-based sauce rather than the tomato sauce and canned tomatoes, again go ahead.
As well as our basic ingredients in this lasagna with ricotta and Italian sausage recipe, which are the meat, 3 cheeses, lasagna noodles and tomatoes, we are using garlic, parsley, oregano, basil to add aromatic accents to the overall flavor of this dish. After preparing the various components we are going to layer them in a glass lasagna dish, then bake the lasagna in the oven.
Continue reading →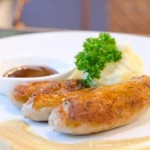 This Aberdeen sausage starter recipe is a very delicious dish that carnivores will love. Beef and bacon are combined with the delicious flavors of Worcestershire sauce, parsley, oats, onion and more to give a delicious starter recipe which can be sliced up and served piping hot or warm from the oven, as you wish.
Easy and Tasty
This Aberdeen sausage starter recipe is not difficult at all and you will enjoy the flavours in it, especially if you are a sausage fan. Homemade sausages are not something a lot of home cooks make but if you are having guest for dinner and you are out to impress, you could do a lot worse than this recipe, and you might find you like it enough to make more than once. It is certainly unusual anyway. Continue reading →
Other Posts You Might Like