seafood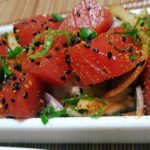 Poke (pronounced po-kay, let's get that out of the way first!) is currently a huge craze here in Houston, and actually nationwide. There are poke restaurants springing up all over the place as this tasty way of serving seafood takes off. Talking of 'springing up' there is a new poke restaurant in Spring, just north of Houston and south of The Woodlands. Spring is part of the Houston-Sugar Land-Woodlands metropolitan area. Hawaiian Poke Co, Spring, is one of the newcomers to this seafood lovers' arena.
This poke restaurant opened just a few weeks back, occupying Howie's Tiki bar until 9pm when Howie's opens. Hawaiian Poke Co serves traditional poke, Hawaiian fusion food and other tasty treats during the daytime and early evening, and then you can stay on for the cocktails and cool Tiki atmosphere.
I'm quite a newbie to poke, although I've loved sashimi for years. I like my sashimi very, very cold and very, very thinly cut – typically Japanese. But poke is not prepared like that. Instead you can expect larger chunks of fish and different flavors than sushi dishes typically offer. Poke isn't the same as sushi or sashimi and you need to try it for yourself to enjoy what this delicacy really has to offer.
Head to an authentic restaurant offering classic poke and they will take pride in using fresh (not thawed) Hawaiian-caught tuna to make their poke. Hawaiian Poke Co uses only the finest fish, since that is the main ingredient in poke, and it's a shame not to use the best if you want to get the best tasting poke. Continue reading →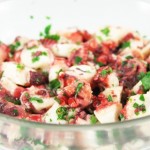 Last night I decided to make seafood so I grabbed some raw squid (calamari) tubes and also 2 cooked octopus legs. I had an idea of how to cook them but wasn't sure how to reheat the octopus without it going tough. I really wanted an octopus and squid stir fry though, so I went ahead with it.
On the package it said to give it a couple of minutes in the microwave but I wasn't keen on that idea. Instead I prepared a stir-fry type dish with the squid, then added the octopus at the end and just stirred it into the rest of the mixture until it was warmed through. It came out really well and octopus and squid stir fry is something I want to make again.
How to Reheat Octopus
The key here is reheating it gently so it doesn't toughen. That means you should get it warm rather than piping hot else you risk that meat toughening up, and let's face it, nobody wants chewy seafood. Of course, the octopus can also be served cold, as part of a salad perhaps. Continue reading →
Some More Hot Content For You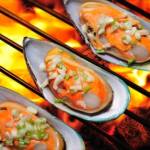 When the weather is cold, mussels steamed in the pan with white wine and parsley makes a wonderful meal, served with warm garlic bread. Then maybe follow them up with some mulled wine or hot apple cider. This is why everyone should know how to cook mussels. When the weather turns warm, such a dish might not offer the same appeal but that's when the barbecue comes into play and grilling season is in full swing.
In the following recipe we are taking live mussels and cooking them in foil packets. They are served with a butter, parsley and white wine sauce, along with some bread. This makes a lovely appetizer for 4 or an entrée for 2. If you're serving it as an entrée then consider fries on the side or baked potatoes.
How to Store Mussels Safely
When learning how to cook mussels, you should know that live mussels may be stored in the refrigerator for a couple of days. Before you cook them, tap any shells which are open. Alive ones will close their shells right away. Dead ones won't so discard any that don't close when you give them a sharp tap. Soak them in salted water for a few minutes too. This encourages them to spit out any grit.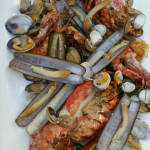 Plateau de fruits de mer is the French term for seafood platter, and this recipe comprises both cooked and raw seafood on a chilled platter, often on a bed of ice. If you order a fruits de mer recipe, you can expect shellfish along with bread, mayonnaise (preferably homemade) and condiments like cocktail sauce and mignonette sauce. The serving platter will be above table level on some kind of stand, and sometimes there are several tiers, both to make it look for elegant, and also because some of the shellfish is served on the half-shell or in the full shell, and then it takes up a lot of room.
A fruits de mer recipe is traditionally served after midnight mass in France as a Christmas treat. Fill your tiered platter with as much wonderful seafood as it can hold and chill the rest until you are ready to replenish it. Prepare homemade mignonette and mayonnaise, ensure you have plenty of bread and white wine (or Champagne) and get ready to wow your dinner guests with this authentic French seafood dish. Gin goes well with seafood so perhaps serve martinis or even gin and (a good quality) tonic before you bring out the show-stopping pièce de résistance – your icy platter of shellfish in all its glory.
Do you have a simple platter or tiered platter for your fruits de mer recipe? If not, you can use a cake stand under a dish to give your fruits de mer recipe some height. Spread the surfaces with crushed ice and add seaweed for decoration if you have some. Use coarse dishwasher salt instead of ice if you are not serving the dish immediately.
Arrange your seafood on the tiers and drape a couple of the prawns over the sides. Add mayonnaise, lemon wedges and maybe some mignonette too. Serve the bread on the side and make sure everyone has a little bowl with water and a slice of lemon so they can wash their hands, or at least some moist towelettes. You can buy little pins for the winkles, so people can get them out of the shells, and other implements.
Continue reading →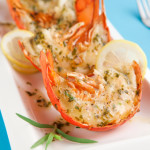 Lobster tails make a real treat and, when cooked right, you can expect a succulent, tasty result with plenty of ocean flavor. Learning how to cook lobster tails is straightforward and the results are impressive. These little delicacies might not be the cheapest type of seafood in the store (far from it, usually) but once it in a while it is nice to spoil yourself to a lobster tails recipe. Buying the tails is cheaper than buying a whole lobster, and they're easier to prepare and eat too.
I spotted some of these on sale just after Christmas. Of course we had a full-to-bursting refrigerator then (who doesn't?) but they were frozen, so into the freezer they went. When I felt like cooking them, I thawed them overnight in the fridge and then started researching the best recipes for them.
The two times I'd had lobster tails before were memorable. Once was in Gran Canaria and they were caught fresh that morning (it pays to have fishermen as friends!) and char-grilled, and the second time was on the Oasis of the Seas cruise ship and those were boiled. I wanted to know how to cook lobster tails so I could make them any time.
Continue reading →
Try this seafood fettuccine with lemon and dill recipe if you are out to impress. This is the perfect go-to recipe for a dinner party because it pairs seafood with pasta and it looks like a true gourmet dish on the plate, although to be honest it is really easy to put together. As well as the fettuccine pasta you will need mixed seafood, and for your flavors you will be adding lemon, dill and a touch of Tabasco sauce – flavors which are amazing with seafood.
For this seafood fettuccine with lemon and dill recipe, the pasta is cooked in one pan while the seafood mixture is cooked in another. You then have the choice of either combining them or serving them separately, depending on the look of the dish you have in mind.
Pasta tends to cool quickly and become gummy, so warm the plates up first before plating up the dish. I usually do this by putting them in a 200 degrees F/100 degrees C oven for 20 minutes. Just warm it up then turn it off and pop the plates in there. Not all plates are ovenproof but I think most are.
Continue reading →
Other Posts You Might Like