side dish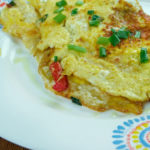 This omelet makes a great side dish for a curry if you don't want to serve rice or naan bread or if you are looking for low carb side dish ideas. You can also eat it by itself as a meal or snack. This is the best Indian omelet recipe to choose if you are looking to spice things up a little and enjoy a brand new flavor.
What is in the Best Indian Omelet Recipe
Along with the eggs which are of course the main ingredient in any omelet, we are using spinach, shallots, cilantro, turmeric and chili.
You can omit the spinach if you want, or replace it with sliced mushrooms. You can also swap the shallots for a small yellow onion or omit the chili pepper if you don't want it spicy.
Making the best Indian omelet recipe is simply a matter of combining the ingredients then cooking the omelet in a skillet. I like to wilt the spinach first but you don't have to do that unless you want it really soft. It cooks in the omelet anyway. Continue reading →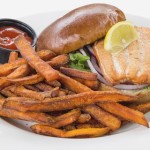 Sweet potato fries are always good and they pair well with many a snack – with sandwiches, burgers, ribs, or even just some ketchup to dip them in! However, many of us have the problem of homemade sweet potato fries being, well, not crispy enough. That's why you need to know the secret of crispy sweet potato fries.
I've never had real success with my oven baked sweet potato fries but what I have discovered is a great recipe to get them super-crispy using a deep fryer and I am sharing my recipe with you below.
Why Use Sweet Potatoes for Fries
The reason I use sweet potato fries is my husband is diabetic and white potatoes tend to send his blood sugar soaring. Carisma potatoes (the diabetic-friendly potato) don't fry that great (although they mash like a dream!)
Feel free to tweak the spices you are using. Also, if you don't have soda water just use plain tap water. I have done that and it doesn't make a lot of difference to your crispy sweet potato fries.
The batter gives the fries amazing crispness and the seasonings taste amazing in these as well. Serve these crispy sweet potato fries hot alongside your favorite meal and wait for all those compliments to come your way! Continue reading →
Some More Hot Content For You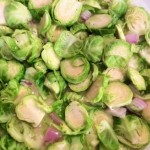 I admit I used to hate Brussels sprouts as a child, largely thanks to the way they were presented in an over-boiled, mushy heap (apologies to my mother if she's reading this) but seriously, sprouts are not only healthy, they can be yummy too, as long as you cook them right! So, find out how to cook Brussels sprouts like a pro and make the best Brussels sprouts side dish of all.
In the old days, this vegetable used to be boiled to soggy death in water, then plonked on the plate alongside the meat or poultry of choice, and kids everywhere (myself included) would leave them on the plate until they were cold, hoping they would just… disappear or something! No wonder sprouts have a bad rep when people everywhere just boil them.
The Magic of Pan-Frying
Now the first time I enjoyed sprouts pan-fried or sauteed was a real eye-opener. This little green vegetable, which may be compared to a miniature green cabbage, can be sliced and cooked with wonderful ingredients like red wine or red wine vinegar, walnuts, parmesan and nutmeg, and these ingredients help to bring out a brand new side to them. This inspired me on how to make the best Brussels sprouts side dish. Continue reading →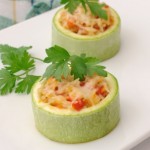 This is a great recipe for stuffed zucchini, or stuffed courgette if that's what it's known as in your neck of the woods. You can cut your zucchini in to 'boats' or lengthwise strips or into wide slices. Perhaps you can get mini zucchini, or 8-ball zucchini, in which case one of those makes one serving. For the filling we are using rice, vegetables and walnuts, along with some garlic, thyme and cheese for added flavor. Feel free to tweak any of the ingredients in this rice stuffed zucchini . Pecans would work in place of the walnuts, or you could sub parsley, basil or even mixed dried herbs for the thyme.
First we are going to take the pulp out of the zucchini and just leave ½-inch or so on the skin. Then the vegetables are sauted and combined with the aromatic ingredients. Add in the zucchini pulp and rice, and spoon this mixture into your prepared zucchini pieces. You can then bake them in the oven, covered with foil so they don't burn or dry out. Take the foil off at the end for a while so the cheese on top can melt and turn golden brown. When the cheese is golden brown and bubbling, the rice stuffed zucchini is ready to serve.
Rice Stuffed Zucchini – How to Serve It
This rice stuffed zucchini makes a nice main dish for a vegetarian or you could serve one slice alongside meat for a carnivore. Either way, the flavor will be great, and this goes with any kind of side dish, or as a side dish for some kind of meat, poultry or seafood entrée. Once you have made this, you might like to swap some of the ingredients to make it the next time. Honestly, all kinds of filling ingredients work here – mushrooms, spinach, fresh herbs, any kind of nuts, raisins – just add whatever you like and make the rice stuffed zucchini  recipe your own. If you want to serve this as a main dish, feel free to add some chopped cooked ham, chicken or shrimp into the mix. Add it when you add the rice to the pan.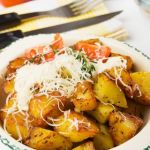 There are thousands of potato recipes, and many ways to prepare roast potatoes, including this spicy roast potatoes recipe. One of the nicest things to do with them is spice them up before roasting, and then you will be able to enjoy the aromatic spices and the potatoes too with their crispy outsides and fluffy hot insides.
The following spicy roast potatoes recipe is very simple to make. You will need floury potatoes like King Edward, Yukon Gold, Charlotte, Maris Piper, or Duke of York.
Floury varieties are better for mashing, fry-making or roasting, while non-floury potatoes suit boiling better.
If you try to boil a floury potato it is likely to disintegrate, but the dry, fluffy texture of floury potatoes make them idea for roasting when you want the outside to crisp up to golden brown perfection and the inside to be perfectly fluffy.
Continue reading →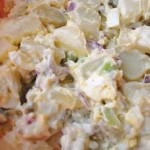 Fish and potatoes have been served together for centuries and dill complements both of them. Sour cream, mayonnaise and gherkins finish off this delicious fish starter recipe perfectly. This herring, potato and dill salad recipe is easy to make and suits any occasion.
Simple But a Nice Balance
There are not many ingredients in this tasty herring recipe and that is because they would be unnecessary. This is a perfectly balanced dish and one of our more interesting starter recipes. Herrings are delicious and if you want ideas for fish starters, this is well worth considering. Continue reading →
Other Posts You Might Like