singapore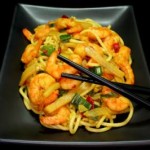 Singapore shrimp noodles are easy to make. Any kind of noodles are lovely for lunch or dinner, and the following recipe shows you how to add a nice typical Singapore flavor to the noodles. You will end up with a complete dish which needs no other accompaniment.
You can swap the shrimp for chicken or tofu if you would rather use one of those, or even combine a few different proteins, and substitute any other vegetables you want if you fancy changing things up a bit.
Added sliced chili is optional but most Singaporeans would want to add it since they love spicy food.
One of the first Singapore meals I ever tried was chili crab, a typical Singapore recipe, and wow was it spicy! I liked it but because I wasn't accustomed to that amount of chili I couldn't really taste the crab, which was a bit disappointing. Everyone's definition of 'spicy' is different too. What is a spicy Singapore shrimp noodles dish for one person might be a mild Singapore shrimp noodles for another. Continue reading →
Other Posts You Might Like