soba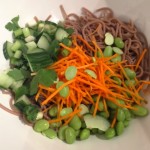 I love all kinds of noodles but soba noodles are my favorite. The word 'soba' means 'buckwheat' in Japanese and it also refers to thin, buckwheat noodles. In Japan the word refers to any thin noodles. These can be served hot or cold, with a dipping sauce or in soup or you could make an easy soba salad. Buckwheat can be harvested 4 times a year because it takes 3 months to reach maturity and be ready for harvesting.
Soba noodles are sold at railway stations in Japan, and they also feature on the menus in high-end restaurants, making them a versatile component in a variety of dishes, not just easy soba salad recipes.
Soba noodles are often drained and chilled in the summer, or served hot with a soy dashi broth in the colder months. Easy soba salad is a popular summertime treat. They might be served with soba tsuyu, a type of dipping sauce, on the side, and maybe bits of dried nori seaweed on top.
The diner will use chopsticks to pick up some noodles and dip them in the sauce. Green onions and wasabi might be mixed into the sauce. Hot broth changes their consistency, which is why a lot of people prefer to have them cold. In Japan, the water in which the noodles were cooked is often drunk after the noodles have been eaten, with the leftover sauce mixed in for flavor. Continue reading →
Other Posts You Might Like