spanish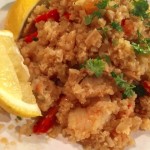 When I worked in Gran Canaria I used to eat paella a lot. In fact I made friends with a local chef who used to make a special batch for me minus the peas (my pet food hate!) This rice-based delicacy was served with half a baguette, plenty of alioli, or ai oli (or garlic mayo) and perhaps a sangria on the side. At that time I had never even heard of a low carb paella using cauli rice because I was enjoying the real thing too much to deviate.
Try as I might, I could never tire of this wonderful Spanish dish. Fast forward a decade and I still love that flavor but my husband is diabetic and rice is a no-no. So I wondered at this point whether cauli rice would work, since it is great for making other cauliflower rice recipes like egg fried cauli rice and lots of other cauli rice recipes.
This is why I tried my hand at a low carb paella using cauli rice a couple of evenings ago. I thought I would add chicken and seafood, along with chicken broth, smoked paprika and saffron to get that authentic flavor, and considering the main ingredient was swapped for a paella rice substitute I have to say it worked really well! Continue reading →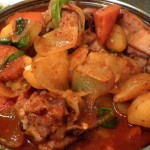 Chicken is a popular ingredient in Mediterranean cuisine, and this Spanish inspired recipe makes the most of chicken thighs, a naturally juicy, flavor-packed part of the bird. Chicken thighs tend to be more economical than chicken breasts, and they also offer more juiciness and a richer flavor, so you have a win-win situation if you choose to buy them and use them in this Spanish paprika chicken recipe. Look out for discounted ones because they freeze beautifully.
What to Use in Spanish Paprika Chicken
We are adding onion and garlic to our Spanish paprika chicken, along with red wine vinegar, tomato paste, mustard, paprika, chicken stock and sherry, plus potatoes (or, if you prefer, use half potatoes and half carrots).
You can tweak the ingredients for Spanish paprika chicken if you wish, if you don't have something or want to throw something else in there. The chicken stock can be switched for mushroom or vegetable stock. You can also throw in some button mushrooms or bell pepper strips which need to be used up. Any of those would be fine. Continue reading →
Some More Hot Content For You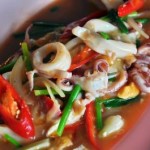 This is not a stuffed squid recipe like many of our other soup recipes with squid but it is too good not to include on here. Oh yes, Spanish squid soup is one of the best soups I know, and it's worth learning the recipe. The recipe features squid of course, and also potatoes, onion and tomato. Aromatic flavor comes from the chilies, thyme, garlic and balsamic vinegar. The green beans are optional but they look attractively colorful so if you want to use them then just throw them in after topping and tailing them.
The Spanish squid soup recipe is very simple to prepare. Once all the ingredients are in there you need to let it simmer for 3 or 4 hours so the flavors can really meld, and so the squid can tenderize.  Just imagine how wonderful this is going to smell while it's cooking! Try serving this with warmed crusty bread, since that is how it would be served in Spain. You will know when it is ready. The squid will be tender not chewy, so just taste a bit and see how it is. If it is not tender enough, give it more time. You need to ensure the squid in this Spanish squid soup is perfect.
Spicing Things Up
It is up to you how much chili you add. In fact you can leave it out altogether if you wish, or use sweet bell pepper instead for a milder result. This is a wonderful way of using squid and if you want a tasty Spanish squid recipe but do not mind it not being stuffed then why not try this? Because of the extended cooking time it's not the kind of dish you can decide to make 10 minutes before eating, but begin it after lunch then let it simmer gently until dinner time. You will be very glad you chose to make this Spanish squid soup because the taste is magical. Continue reading →
Other Posts You Might Like