spanx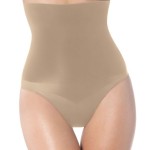 Women's control underwear is the easy, pain-free way of smoothing out those love handles as well as your belly and other bits and pieces you would prefer weren't there. Maybe you already own Spanx control underwear to keep those wobbly bits under control.
Browse and shop for all the best control underwear and wear figure-hugging skirts and dresses once more. Control panties are just as comfortable as regular panties. The material stretches and holds you in, and you will forget you are wearing them.
Spanx Control Underwear : Plenty of Choice
Body contouring undergarments are available from lingerie stores and you can also buy this magic underwear online. The size you need is the size you currently wear, so you can order the right size for you.
Body shape wear comes in various styles, colors and designs, so whether you want a girdle to hold your tummy in so you can wear a new dress or slimming shapewear for women which goes from just under the bust to the thighs, you can browse what is available and take your pick. Continue reading →
Other Posts You Might Like