spicy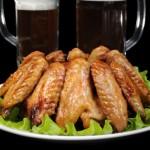 These baked chicken wings are so good. If you are in the mood for chicken wings but you don't want to fry them, try this recipe instead because they come out just as crispy as fried wings but are healthier because they aren't going to be submerged in fat.
A Flavorful Coating for Baked Chicken Wings
The coating is made with flour, paprika, garlic salt, pepper and cayenne, and the wings are cooked in a little butter to crisp them up and stop them sticking to the baking dish. Swap the cayenne pepper for Hungarian paprika if you want, or the garlic salt for regular salt and a pinch of garlic powder, and the flavor of our baked chicken wings will be very similar.
This baked chicken wings recipe can be doubled or tripled easily enough if you want to feed a crowd rather than just make a snack or meal for a couple of people. The chicken wings refrigerate well and they even stay crispy so you can enjoy them cold the next day with a salad perhaps, or take some to work with you.
Easy and Sure to Be Popular
This easy baked chicken wings recipe is one you will find yourself making often because the chicken is so flavorful and it comes out moist and juicy. Also, this is a good recipe if you are watching your figure because it's healthier than fried chicken.
Continue reading →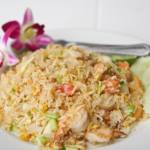 This is very typical food in Thailand, and you can find Thai fried rice with shrimp (or chicken or another protein) served everywhere from a food stand on the street corner to a fine Thai food restaurant. There are different ways to make Thai fried rice with shrimp and you can usually specify which meat you want to have in there. When making Thai fried rice, you can use up any meats or seafood and veggies left in the refrigerator so if you have leftovers it is a great way to use them up.
More about Thai Fried Rice with Shrimp
Unlike Chinese fried rice and some other kinds, Thai fried rice comes with a wedge of lime on the side along with prik nam pla, which is chilies and fish sauce combined together. Use the following recipe as a starting point, adjusting the ingredients to match what you happen to have available.
It is always best to use day-old cooked rice to make your Thai fried rice with shrimp, because freshly cooked rice is too moist and will steam instead of fry. If that isn't possible though, just ensure your rice has time to cool down because this will dry it out quite well.
If you want to make your own prik nam pla (fish and chili sauce) to serve with this (and you really should, for an authentic Thai rice flavor!) then you should put 3 tablespoons of fish sauce in a bowl and add 4 sliced Thai chilies. Squeeze in the juice of half a lime if you like, although the lime is optional.
Continue reading
Some More Hot Content For You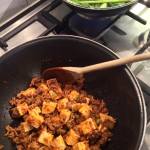 Mapo tofu, which is sometimes written mapo doufu, is a delicious Chinese recipe from the Sichuan province in China. It is comprised of tofu in a reddish, spicy bean and chili based sauce. The tofu is usually cooked with ground meat, either beef or pork, along with fermented beans. There are variations of course, and everyone has their own way of making it. Discover how to make mapo tofu and you will fall in love with this dish!
Why is Mapo Tofu Called That?
So how did mapo tofu get its name? Well the 'ma' refers to 'mazi' which is pockmarks, and the 'pa' refers to 'popo' meaning old woman or grandmother. So interestingly mapo tofu means pockmarked grandmother or, better, pockmarked grandmother's beancurd. This presumably refers to the old lady who first invented the dish. Learning how to make mapo tofu means you can relay this interesting history at the dinner table.
The Flavors of Mapo Tofu
This recipe is traditionally fiery, as many Sichuan dishes are, and this dish in particular is described using 7 Chinese adjectives, namely numbing, hot temperatures, spicy hot, fresh, soft and tender, flake, and aromatic.
The most important ingredients are the beancurd (tofu), salty bean paste or chili broad bean paste, fermented black beans, chili oil, garlic, green onions, rice wine, Sichuan peppercorns, and chili flakes. There might also be some starch to thicken up the sauce and often some kind of ground meat.
Continue reading →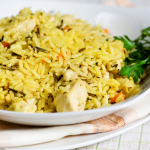 Indian is one of my favorite cuisines and I just love the food. I have traveled around India and tasted the dishes how they are supposed to be made, because westernized Indian food really isn't the same at all. I like to make simple Indian recipes for beginners because I just love the flavors but don't  have all day to cook.
Indian food features all kinds of proteins from pork to chicken, fish, seafood, lamb and eggs, although beef isn't used much in India, not at all in most places, because the cow is seen as holy in India.
Indian curries are cooked over an open flame traditionally, and include plenty of aromatic spices as well as some kind of oil or fat. Boiled or fried rice is a traditional accompaniment, along with flatbreads such as naan, chapatti or roti, breads which are made from flour or wheat dough and served warm with the main dish.
A salad with tomatoes, onion, cucumber and lemon makes a refreshing side dish and helps cut through the spice in the curry, so a lot of simple Indian recipes include it. Yogurt is also a popular condiment, contrasting with the heat of your entrée. Combine yogurt with grated cucumber, onions, cilantro and a pinch of chili powder to make a raita, similar to Greek tzatziki.
Continue reading →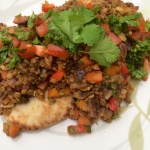 This Indian ground beef recipe is just amazing and I have made it 5 or 6 times. Despite beef not being the most popular meat in India (the Holy Cow and all that) it works beautifully with this recipe and these seasonings, so if you are into beef and you want to make something Indian, consider this recipe.
The ingredients in this Indian ground beef dish work amazingly together and the finished dish is just heaven on a plate.
You will cook the beef and onion, then add chickpeas, curry powder and stock. This mixture is served spooned over naan bread with a fresh tomato and cilantro salad.
Continue reading →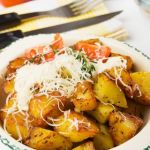 There are thousands of potato recipes, and many ways to prepare roast potatoes, including this spicy roast potatoes recipe. One of the nicest things to do with them is spice them up before roasting, and then you will be able to enjoy the aromatic spices and the potatoes too with their crispy outsides and fluffy hot insides.
The following spicy roast potatoes recipe is very simple to make. You will need floury potatoes like King Edward, Yukon Gold, Charlotte, Maris Piper, or Duke of York.
Floury varieties are better for mashing, fry-making or roasting, while non-floury potatoes suit boiling better.
If you try to boil a floury potato it is likely to disintegrate, but the dry, fluffy texture of floury potatoes make them idea for roasting when you want the outside to crisp up to golden brown perfection and the inside to be perfectly fluffy.
Continue reading →
Other Posts You Might Like