squid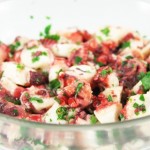 Last night I decided to make seafood so I grabbed some raw squid (calamari) tubes and also 2 cooked octopus legs. I had an idea of how to cook them but wasn't sure how to reheat the octopus without it going tough. I really wanted an octopus and squid stir fry though, so I went ahead with it.
On the package it said to give it a couple of minutes in the microwave but I wasn't keen on that idea. Instead I prepared a stir-fry type dish with the squid, then added the octopus at the end and just stirred it into the rest of the mixture until it was warmed through. It came out really well and octopus and squid stir fry is something I want to make again.
How to Reheat Octopus
The key here is reheating it gently so it doesn't toughen. That means you should get it warm rather than piping hot else you risk that meat toughening up, and let's face it, nobody wants chewy seafood. Of course, the octopus can also be served cold, as part of a salad perhaps. Continue reading →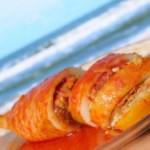 Cooking squid is not difficult and it is important to be aware of that. Too many cooks quit before they even begin, not knowing how straightforward this type of seafood is to prepare. Read the following squid cooking tips and find out how to prepare and cook this wonderful 'fruit of the sea'.
Step by Step Guide
If you are faced with a whole squid the first thing you need to do is pull the tentacles away from the body. Reach up inside the body for the quill, which is going to feel like a shard of plastic. Pull this down, out of the squid, and throw it away. Rinse inside the 'hood' (squid body) with cold running water.
What's next in our squid cooking tips? Well, you see the wing-like flaps? Those are the ears. Pull them off the body. Also pull the mauve-colored skins away from the ears and body. You only want the white meat left. Slice below the eyes to cut the tentacles off and check each tentacle for the hard beak. If you find it, throw it out. Continue reading →
Some More Hot Content For You
Other Posts You Might Like