strawberry apple smoothie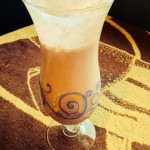 This wonderful strawberry apple smoothie recipe makes the most amazing smoothie. If you are in the mood for something cool, fruity and reminiscent of the summer then go ahead and make this. It only takes a few minutes and the flavor is amazing.
The texture of our strawberry apple smoothie is not too thick or too thin but just right, so you can use a straw if you want. Frozen strawberries are always found in the bottom drawer of my freezer. Not only are they handy to thaw and add to yogurt or whiz up with cream sugar to make mousse, but they are cheaper than fresh strawberries. I save the fresh ones to enjoy with Greek yogurt as a dessert or sometimes I add a few to the juicer.
Frozen strawberries are also perfect for adding to smoothies and shakes because a good blender will break them up perfectly and they will chill the drink as well as ice does! Continue reading →
Other Posts You Might Like