strawberry peach smoothie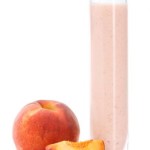 Peach smoothie is perfect for any age or occasion, and you can adapt the following recipe as much as you want. Serve it in martini glasses, tall glasses or another kind, and garnish each one with a peach slice if you want, or a strawberry perhaps. This lovely recipe is quick and easy to make. Simply throw everything into a blender and press the button.
If you find yourself with a batch of fresh peaches to use up, consider making this recipe. You don't have to use fresh peaches. Frozen ones will work too, either thawed or still frozen, and if you're using still-frozen ones you can leave out the ice cubes.
Fruity and Fantastic
Peaches are wonderful in fruit smoothies, and you can also add other fruit, such as strawberries to make a strawberry peach smoothie or consider pineapple, pear, mango, melon or other fruits. Canned fruit is yet another option but drain off the liquid if they are in 'syrup' (which is only sugary water). Continue reading →
Other Posts You Might Like