stuffed peppers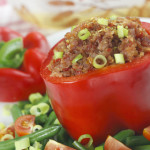 I've always been a fan of stuffed peppers, especially when beef, rice and cheese come together with seasonings to offer a rich and satisfying filling. But this time I wanted to make something without the rice and cheese, and I was curious how to flavor the beef sufficiently so that could be the main ingredient. That is how the idea for these curried beef stuffed peppers was born.
The following curried beef stuffed peppers recipe is made with spices and seasonings to add a light curry flavor to the beef filling, along with walnuts, raisins and other ingredients to add flavor accents. The overall effect is amazing and I am keen to make these curried beef stuffed peppers again soon.
I served the curried beef stuffed peppers with green beans on the side and actually they didn't look much on the plate but, trust me, they are filling! The following recipe makes 2 servings and the amount of filling should be just enough to fill the peppers. Mine was perfect – neither too much nor too little, but of course it depends on the size of your peppers.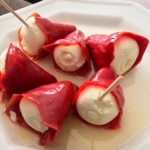 These stuffed mini peppers with goat cheese make an incredible appetizer and my husband and I both love them. Where we live we can buy them in different varieties – some are sweet while others are spicy.
One store uses the pointy end of spicy chilies as their 'mini' peppers while others use mini sweet peppers, mostly red but sometimes green or yellow.
Green is more savory while yellow (and orange to a lesser extent) is sweeter. Whichever peppers you use in this stuffed mini peppers with goat cheese recipe, the flavor of these little bites is going to be fantastic. See what they sell in your local food market and decide whether you want a sweet, semi-spicy or piquant result, or you could make some of each.
Plenty of Tempting Choices
Making your own stuffed mini peppers with goat cheese over buying them saves you money, plus you get to decide what result you want – spicy, medium or mild, as well as what color peppers you want, plus whether to use only goat cheese for the filling, or to combine the goat cheese with sour cream and/or cream cheese. There are a lot of options here actually!
Continue reading →
Some More Hot Content For You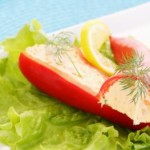 These cream cheese stuffed sweet peppers are gorgeous and I often make them as a side dish. I like to use the long pointy red peppers, both because of their nice, sweet flavor, and also because of how they lie flat on the plate and don't fall over. You can use bell peppers if you want, or even chilies if you have a taste for them. Roast these in the oven or broil them if you prefer. Keep an eye on them. You will be able to see when they are done.
Tweak if You Wish
It is perfectly possible to tweak this cream cheese stuffed sweet peppers recipe based on what you have. I have made these with just the peppers and the cream cheese before because I didn't have any sour cream. You can also add minced garlic, minced green onion or anything else you fancy. If you are making these as an accompaniment for Mexican food, perhaps add some chopped cilantro or a pinch of chili powder to the filling mixture.
Other Posts You Might Like