stuffed squid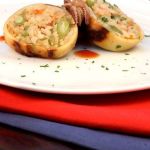 This Italian-inspired risotto stuffed squid recipe makes a delicious dinner and it is impressive enough to serve at a dinner party. Calamari is often battered and deep-fried but in this recipe it is stuffed with tasty risotto and cooked on the grill or griddle, then served in slices for a beautiful presentation.
What Kind of Squid to Use for Risotto Stuffed Squid
You can use whatever size squid you like. Use smallish ones (the width of your palm) and each person can eat 2 or even 3, or use larger ones and 1 per person should be sufficient.
The size of the squid affects the cooking time (bigger squid take longer to become tender) but not the flavor. You might want to garnish the plates with some pan-fried baby squid. Otherwise consider a small salad or your favorite steamed veggies – maybe asparagus.
Continue reading →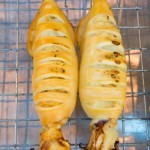 I love seafood, especially stuffed squid. I was born in England but have lived in various places including the Canary Islands and Spain, which is how I picked up many tips about cooking stuffed squid and other seafood and how I developed my love of squid, octopus and every delightful treat from the sea!
Like many people, I was nervous about cooking squid because I was worried about it turning rubbery, but with the right recipe and the correct cooking time/temperature that is not a concern, and if my squid is not tender then I know it just needs more time. Yes, being a fan of stuffed squid means knowing how to cook it properly.
When a sharp knife slips through, as easily as a butter knife melting through soft butter, the squid is perfectly cooked and ready to serve. You can either cook it in a minute or two over a very hot heat or give it a longer time (40 minutes or so) in a braising liquid to slow cook it. The problems happen when you go for something in the middle of those extremes and your squid toughens!
Stuffed Squid: Lots of Possibilities
Squid is a versatile ingredient and you can stuff it Asian-style or Mediterranean-style, experiment with different fillings based on rice, seafood or even ground meat, and you can choose from baby squid, medium squid or even the big ones, depending what kind of dish you are making, and whether you are preparing a soup, using a sauce, frying, baking or grilling the seafood, or how many people you anticipate feeding. Continue reading →
Some More Hot Content For You
Other Posts You Might Like