summer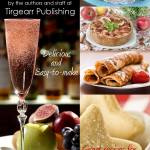 Summer is a great time for refreshing and fruit-based desserts and other tempting, light summer dessert ideas. If you want to linger a bit longer at the dinner table and savor something sweet while you do it there are plenty of choices. Most of the time you will want to serve something to either cool people down or showcase the wonderful summer fruits available during the warm months of the year.
A favorite summer dessert is ice cream. To make this common dish a little more special you can make it yourself. If you have an ice cream maker and a little bit of time you can create a special recipe for whatever you're craving that day, thinking up your own summer dessert ideas with ice cream.
If you don't have access to an ice cream maker an easy and healthy alternative is to make ice cream using frozen bananas. If you have a blender or food processor you can blend frozen bananas with any choice of mix-ins to create a delicious and surprisingly creamy dessert. A couple favorites are to mix in peanut butter, strawberries, or just a little vanilla extract and cinnamon before blending.
Continue reading →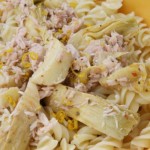 This tuna pasta salad with artichokes recipe is right up your street if you are looking for something new to do with pasta and tuna, and you would prefer something cold to hot.
This dish can be eaten by itself, paired with mixed salad leaves, taken to school or work as a box lunch, or made in bulk for a potluck supper, gathering or special event. It is simple to prepare and you can use canned tuna and artichokes for ease of preparation.
This lovely tuna pasta salad with artichokes recipe is usually served chilled but, for a change of pace, you might want to serve it warm, while the pasta is hot and the tuna mixture is cold. Combine all the ingredients well and the resulting dish will be warm. This might be nicer if the weather is chilly. Continue reading →
Some More Hot Content For You
The first time I saw a photo of Vietnamese summer rolls I just thought 'wow'! I love spring rolls (egg rolls) because of their wonderful crispy exterior, but summer rolls are slightly different, still oozing Asian character but featuring a very different coating and a more subtle, fragrant characteristic which you will love.
These are lovely in the summer (hence the name) but perfect served as an appetizer or light meal any time of the year.
What are Vietnamese Summer Rolls?
A summer roll is a Vietnamese dish made by enclosing a filling in a soft rice paper wrap. Typical ingredients used to make the filling include shrimp, pork, rice vermicelli, and vegetables. Continue reading →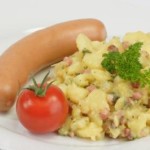 Potato salad is always good but add bacon and you have a really mouthwatering side dish. The following creamy potato salad with bacon is a recipe which is very simple to make; the potato salad will keep for a few days once prepared. Serve it chilled or room temperature. Some people even like it served warm, as soon as it is made.
Use boiling potatoes to make potato salad, not mashing potatoes which tend to disintegrate too easily. The choice of dressing is up to you.
While a lot of people just use their favorite mayonnaise, you might prefer another kind of creamy dressing for this creamy potato salad with bacon, else you can use half mayo half sour cream, half yogurt half ranch dressing, or anything else you fancy. A bit of Dijon mustard in the dressing really brings out the flavor of the potatoes and complements the dish.
Perfect Crunch and Flavor Balance
Finely diced celery or green onion is great for adding crunch to our creamy potato salad with bacon, while you can add flavor with herbs, spices or other ingredients. The bacon adds plenty of flavor. Remember it also adds saltiness so limit the amount of salad used in the recipe, and then you can always add it later if necessary. Continue reading →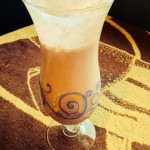 This wonderful strawberry apple smoothie recipe makes the most amazing smoothie. If you are in the mood for something cool, fruity and reminiscent of the summer then go ahead and make this. It only takes a few minutes and the flavor is amazing.
The texture of our strawberry apple smoothie is not too thick or too thin but just right, so you can use a straw if you want. Frozen strawberries are always found in the bottom drawer of my freezer. Not only are they handy to thaw and add to yogurt or whiz up with cream sugar to make mousse, but they are cheaper than fresh strawberries. I save the fresh ones to enjoy with Greek yogurt as a dessert or sometimes I add a few to the juicer.
Frozen strawberries are also perfect for adding to smoothies and shakes because a good blender will break them up perfectly and they will chill the drink as well as ice does! Continue reading →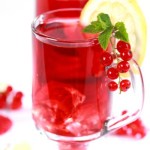 This lovely summer fruits ice tea combines tea, honey and fruit with mint leaves. The result is refreshing and delicious. If you wish to make an alcoholic version, add a splash of Cointreau, Limoncello, Chambord or fruit brandy to the drink. If you are doing this and there are kids around, don't forget to mark the pitcher so you know it's for the grownup only.
This tasty drink is tasty, refreshing and free from additives. A lot of commercial teas contain lots of added sugar, as well as artificial colors and flavorings, and those are all things we could happily do without.
Feel free to tinker with the following recipe. Try adding lychee tea and lychees instead of the hibiscus and rosehip teas. If you want to make it fizzy, add some lemonade or sparkling water to the mix. Pineapple, passion fruit or berries can also go into this tea. Continue reading →
Other Posts You Might Like