tea
Perhaps you are familiar with Thai tea, or maybe this drink is a new one to you. Whichever is the case, we are going to look a little closer at this beverage and find out some more about it. What is Thai tea exactly? Well let's have a look.
First of all, not all Thai teas are created equal – some have orange food coloring, others have no food coloring. Some are made with cardamom, vanilla and anise, some with just one or two of those. Chai tea is an Indian tea similar to Thai tea but not the same. Again, there are various recipes for that too.
How to Drink Thai Tea
Some people like theirs with Half and Half while others prefer condensed or evaporated milk, and many people like to add plenty of sugar or sweetener to the finished drink. Thai tea can be served over ice for a refreshing summer drink (and it is commonly known as 'Thai iced tea') or you can enjoy it hot. Personally I like it hot with a splash of 2% milk, but I'm English so perhaps that's why!
The first time I tried Thai tea was in a restaurant in Bedford. I had it cold and, wow, it was so good! I'm not usually into sweet tea or coffee (at all) but this one was sweet and the balance was perfect. If you want to experiment with Thai tea recipes, try some in a Thai restaurant first to see whether you like it (it's quite different from Chinese tea, black tea, green tea, jasmine tea etc) then choose from loose Thai tea or Thai teabag sachets. I prefer the latter, since it's just easier.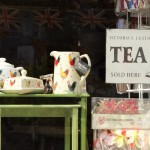 Why not pair your crispy fried crab Rangoon wontons with a refreshing cup of Chinese tea? There are many types of Chinese tea to choose from so you can quench your thirst and enjoy the delicious, fragrant taste. Chinese tea has a long history and the tea-drinking ritual has been around for over 1000 years. The Chinese were the first to discover the flavor of tea leaves, and tea is an integral part of daily life in China.
Chinese tea used to be divided into four grades, depending on quality, and the Chinese tea culture was developed a lot during the Ming and Song dynasties, popularizing it in neighboring countries such as Korea and Japan. People there soon took all the types of Chinese tea to their hearts.
Chinese tea can be divided into five categories – green, white, oolong, black and post-fermented. There are also compressed and scented teas. The most popular type of tea drunk in China is green tea. You can use Chinese tea to flavor desserts and to make other drinks, and you can drink it hot or iced. Continue reading →
Some More Hot Content For You
Other Posts You Might Like