tofu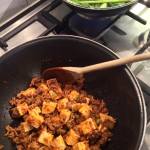 Tofu is an ingredient which is made by coagulating soy milk and then pressing the resulting curds into blocks. It is used in various East and Southeast Asian cuisines. Tofu can be fresh or processed, and its subtle flavor suits a variety of savory and sweet recipes. It is often marinated or seasoned before use. If you're wondering what is tofu exactly, you might also be interested in its history.
Tofu dates back nearly 2000 years to ancient China and during the Nara period its production technique was introduced into Korea and Japan. Tofu is low in calories, featuring a lot of protein but not much fat. It is also high in iron and depending on how it is made, it can also be rich in magnesium and calcium, making it a great health food.
Fresh tofu is usually sold immersed in water to keep it moist. You can get silken tofu which is very soft, firm and extra-firm tofu which can be cooked without falling apart, dried, processed, and pickled tofu. There are also various sweet varieties. Silken tofu can be used to make desserts, smoothies, and delicate foods. It is often added to Chinese soup recipes in tiny cubes and eaten with a spoon since the very soft kind is nearly impossible to pick up with chopsticks, unlike firm and extra-firm tofu. Learning more about what is tofu exactly means you will need to know about the different varieties and which to choose for which dish. Continue reading →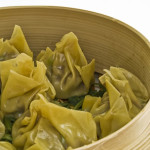 This recipe combines tofu, cabbage and carrot with delicious seasonings like hoisin sauce, sesame oil and more, for sensational steamed wontons. Whether you are a vegetarian and therefore looking for vegetarian wontons, or whether you just like tofu, there is no doubt this steamed wontons with tofu recipe is fantastic. Tofu is really versatile and you can stir-fry it, bake it, grill it (the firm kind anyway) or use it in a vegetarian wonton recipe as a substitute for another kind of protein, and it will soak up all the other flavors in the dish, and offer a pleasing texture as well.
Maybe you are wondering how to use a bamboo steamer and the good news is they are easy to master. You can either line the steamer with lettuce or banana leaves, or simply use some spray oil so your tofu dumplings do not stick. Bring half an inch of water to a boil in a wok and sit the steamer on top so it doesn't touch the water. That's pretty much all there is to steaming and you will find this steamed wontons with tofu recipe easy to master.
How to Serve Them
Serve these steamed wontons with tofu as an appetizer or as part of an Asian dinner and sit back while the compliments come! Perhaps you already have a steamer or maybe you are wondering whether it is worth getting one. Steamers are often purchased, used a few times and then abandoned in favor of other pans and the deep fryer, but steaming is really healthy and steamed wontons have a lovely soft texture, so definitely try this recipe. Continue reading →
Some More Hot Content For You
Other Posts You Might Like