unusual crackslaw recipe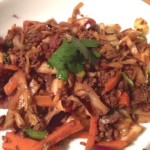 Greek seasonings work their magic in this special crack slaw recipe, while the meat and veggies are sure to fill you up. This Greek lamb crackslaw makes a change from the Asian crackslaw recipes you might be more familiar with, but if you are looking for something different this recipe is ideal.
Ground lamb is used instead of another kind of ground meat, and it makes a great substitute because it is naturally quite fatty which means it comes out succulent and juicy.
Fantastic Flavors
The Greek flavors in this Greek lamb crackslaw recipe come from the addition of tomatoes, herbs and lemon juice. You can also add some black olives if you like. For the herbs, parsley, basil, oregano or mint would go well. Continue reading →
Other Posts You Might Like