veal low carb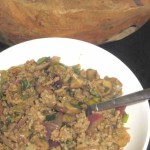 I spotted some ground veal in the grocery store last week and, since I had never tried it before, decided to use it to make veal crackslaw. I am always looking for new ideas. Crackslaw is always good but I can get bored with beef at times.
You can use any kind of ground meat to make crackslaw and I like veal escalope, so I thought why not see how ground veal works out? I combined the veal with mushrooms and other veggies, as well as all the Asian seasonings crackslaw is famed for, and the results were impressive. I really liked it!
As well as the veal, I used a package of sliced veggies including mushrooms and leeks, to make this veal crackslaw,  and you can either do similar or prepare vegetables from fresh.
I usually use shredded cabbage or a coleslaw mix but the mushroom mix also works well with the Asian flavors. In my local supermarket you can grab these on offer sometimes. Continue reading →
Other Posts You Might Like