vegetable low carb entree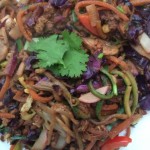 Similar to our other recipes for crackslaw yet slightly different because of the peanut butter and the lack of meat, this one is a nice change of pace. Just like with the other recipes though you should feel free to adapt this peanut crackslaw recipe and make it however you prefer. If you want to use meat, go ahead, choosing from beef, pork, chicken – as long as it is ground that is fine. Check the label to make sure it is 100% meat and no fillers.
This peanut crackslaw is really simple to make. If you do want to use ground meat, cook that first, then empty it out of the wok and proceed with step 1. Add the meat back in the end and stir until warmed through. About 7 oz of meat is good. You can add that without changing the rest of the ingredients although you might need a splash more of oil. Add the carbs from the meat to ensure the carb count is right.
Crackslaw with Peanut Butter
When I make peanut crackslaw, I love to throw in plenty of Tabasco sauce but you can use any kind of hot sauce, or even chili powder or sliced jalapenos if you prefer. Some people like more heat than others so add just a little and offer extra hot sauce on the side if you think some people wants theirs on the spicier side. Continue reading →
Other Posts You Might Like