vegetarian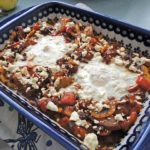 Shakshuka is a Middle Eastern tomato, bell pepper and egg dish. Sometimes it is spelt shakshouka. This Middle Eastern shakshuka recipe actually originated in Northern Africa and there are many different variations on the basic theme.
The feta cheese is not a traditional ingredient, for example, but I love to add it because the creamy tang goes so well with the dish. Leave it out if you prefer though.
How to Serve a Middle Eastern Shakshuka Recipe
It is often served for breakfast in Israel with challah or pita on the side. The dish is also good for brunch or lunch. I like it with pita bread, homemade hummus and other Middle Eastern/Israeli/Arabic dishes.
The sauce is made first and that's easy to prepare on the stove, and then the eggs are gently cracked into the sauce. Finally the skillet goes into the oven so the shakshuka can finish cooking. It is then served hot, with some kind of bread on the side to mop up all the tasty juices.
Good for You Too!
This shakshuka recipe is a healthy dish, boasting the protein form the eggs, the lycopene and antioxidants from the tomatoes, and the vitamin-C from the bell pepper. If you want to make this more substantial add some small lamb meatballs to the sauce. You can also swap the bell pepper for eggplant or grill the peppers first for a richer flavor. Continue reading →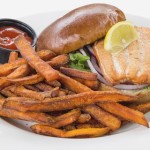 Sweet potato fries are always good and they pair well with many a snack – with sandwiches, burgers, ribs, or even just some ketchup to dip them in! However, many of us have the problem of homemade sweet potato fries being, well, not crispy enough. That's why you need to know the secret of crispy sweet potato fries.
I've never had real success with my oven baked sweet potato fries but what I have discovered is a great recipe to get them super-crispy using a deep fryer and I am sharing my recipe with you below.
Why Use Sweet Potatoes for Fries
The reason I use sweet potato fries is my husband is diabetic and white potatoes tend to send his blood sugar soaring. Carisma potatoes (the diabetic-friendly potato) don't fry that great (although they mash like a dream!)
Feel free to tweak the spices you are using. Also, if you don't have soda water just use plain tap water. I have done that and it doesn't make a lot of difference to your crispy sweet potato fries.
The batter gives the fries amazing crispness and the seasonings taste amazing in these as well. Serve these crispy sweet potato fries hot alongside your favorite meal and wait for all those compliments to come your way! Continue reading →
Some More Hot Content For You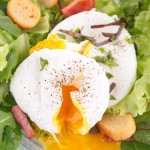 Perfect poached eggs are a tasty idea for breakfast, perhaps with buttered toast and some bacon or sausage. They can also be served as a garnish or side dish with meat. You might be wondering how to poach an egg like a pro in the microwave, how long to poach eggs or even how long to poach quail eggs since they are so much smaller.
The most typical way to poach an egg is in a pan of water on the stove, although we are going to look at microwave poaching as well. Bring a pan of water to a boil and add a pinch of sea salt.
Now crack an egg into a cup, then pour it into the water. Repeat with however many eggs you are poaching. They will start to cook right away and you will see them turn from clear to white. If you prefer to use silicon egg cups instead of just dropping the eggs into the water, do that. Now you know how to poach an egg like a pro! Continue reading →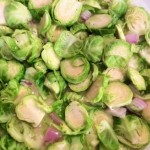 I admit I used to hate Brussels sprouts as a child, largely thanks to the way they were presented in an over-boiled, mushy heap (apologies to my mother if she's reading this) but seriously, sprouts are not only healthy, they can be yummy too, as long as you cook them right! So, find out how to cook Brussels sprouts like a pro and make the best Brussels sprouts side dish of all.
In the old days, this vegetable used to be boiled to soggy death in water, then plonked on the plate alongside the meat or poultry of choice, and kids everywhere (myself included) would leave them on the plate until they were cold, hoping they would just… disappear or something! No wonder sprouts have a bad rep when people everywhere just boil them.
The Magic of Pan-Frying
Now the first time I enjoyed sprouts pan-fried or sauteed was a real eye-opener. This little green vegetable, which may be compared to a miniature green cabbage, can be sliced and cooked with wonderful ingredients like red wine or red wine vinegar, walnuts, parmesan and nutmeg, and these ingredients help to bring out a brand new side to them. This inspired me on how to make the best Brussels sprouts side dish. Continue reading →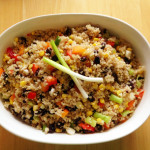 Quinoa is quickly becoming a popular food in America and throughout the world. The fast spread of this low-fat superfood grain has led to people wondering how to cook it at home. Chances are you've probably eaten it at a restaurant or at a friend's house. Now you're wanting to know how to cook this amazingly tasty food for you and your family and you want to know how to cook quinoa on the stove.
The good news is that quinoa (pronounced keen-wah) is really easy to cook at home. It's certainly no more difficult to cook than rice or buckwheat, which is good news for all of you that want a taste of this superfood without having to pay the high prices restaurants usually charge for it.
Prepare the Quinoa First
The first thing that you need to do is soak your quinoa in a large bowl of water for 15 minutes. The outside coating of quinoa has a bitter substance called saponin. This is the plant's way of ensuring that birds don't steal its precious nutrients. The bitter taste makes birds think twice about chowing down on it. Drain and rinse the quinoa using a fine mesh strainer after it has been soaked. You'll want to do this once or twice for a minute or two. This is the final process of getting rid of the saponins.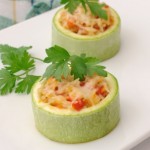 This is a great recipe for stuffed zucchini, or stuffed courgette if that's what it's known as in your neck of the woods. You can cut your zucchini in to 'boats' or lengthwise strips or into wide slices. Perhaps you can get mini zucchini, or 8-ball zucchini, in which case one of those makes one serving. For the filling we are using rice, vegetables and walnuts, along with some garlic, thyme and cheese for added flavor. Feel free to tweak any of the ingredients in this rice stuffed zucchini . Pecans would work in place of the walnuts, or you could sub parsley, basil or even mixed dried herbs for the thyme.
First we are going to take the pulp out of the zucchini and just leave ½-inch or so on the skin. Then the vegetables are sauted and combined with the aromatic ingredients. Add in the zucchini pulp and rice, and spoon this mixture into your prepared zucchini pieces. You can then bake them in the oven, covered with foil so they don't burn or dry out. Take the foil off at the end for a while so the cheese on top can melt and turn golden brown. When the cheese is golden brown and bubbling, the rice stuffed zucchini is ready to serve.
Rice Stuffed Zucchini – How to Serve It
This rice stuffed zucchini makes a nice main dish for a vegetarian or you could serve one slice alongside meat for a carnivore. Either way, the flavor will be great, and this goes with any kind of side dish, or as a side dish for some kind of meat, poultry or seafood entrée. Once you have made this, you might like to swap some of the ingredients to make it the next time. Honestly, all kinds of filling ingredients work here – mushrooms, spinach, fresh herbs, any kind of nuts, raisins – just add whatever you like and make the rice stuffed zucchini  recipe your own. If you want to serve this as a main dish, feel free to add some chopped cooked ham, chicken or shrimp into the mix. Add it when you add the rice to the pan.
Other Posts You Might Like