white wine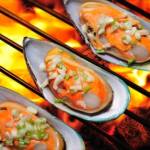 When the weather is cold, mussels steamed in the pan with white wine and parsley makes a wonderful meal, served with warm garlic bread. Then maybe follow them up with some mulled wine or hot apple cider. This is why everyone should know how to cook mussels. When the weather turns warm, such a dish might not offer the same appeal but that's when the barbecue comes into play and grilling season is in full swing.
In the following recipe we are taking live mussels and cooking them in foil packets. They are served with a butter, parsley and white wine sauce, along with some bread. This makes a lovely appetizer for 4 or an entrée for 2. If you're serving it as an entrée then consider fries on the side or baked potatoes.
How to Store Mussels Safely
When learning how to cook mussels, you should know that live mussels may be stored in the refrigerator for a couple of days. Before you cook them, tap any shells which are open. Alive ones will close their shells right away. Dead ones won't so discard any that don't close when you give them a sharp tap. Soak them in salted water for a few minutes too. This encourages them to spit out any grit.
Other Posts You Might Like