wonton dipping sauce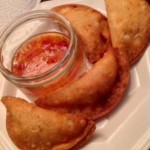 Many people are eager to start making the best and most easy wonton recipes but wait – what are you going to serve with the wontons? If you are serving them in soup then that is one thing but if not, you might like to serve a wonton dipping sauce on the side, to dip your steamed, baked or fried wontons into. You are going to need a tasty dipping sauce for wontons.
A wonton dipping sauce can be something out of a bottle such as soy sauce, oyster sauce or chili sauce, or it can be something you make yourself. Consider the wonton filling when thinking about what type of wonton dipping sauce to prepare.
Examples of a Good Dipping Sauce for Wontons
For example, a creamy filling like crab Rangoon would be best with a chili dipping sauce for wontons or something else which contrasts. You will not want to dip cream cheese wontons into a creamy sauce or super-spicy wontons into a hot sauce. Contrasting the flavors is always good. Continue reading →
Other Posts You Might Like