wonton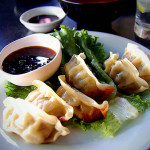 It is fair to say that potstickers are well-loved, and no wonder, when they boast such an incredible flavor in every bite. One is never enough. If you know something about potstickers history or you just like to eat them, you might already know through history potstickers have gone by a variety of names, including guotie, Peking Ravioli, pork dumplings, and wortip. Potstickers are both pan-fried and steamed.
Once the little dumplings are filled they are pan-fried on one side and then steamed in water or broth, so they end up crisp and browned on one side but easy to remove from the pan with a spatula. Try not to overcook them though, because then they will stick!
Curious Potstickers History
These little treats have been around since the Chinese Song dynasty, which dates back to 1280AD) although the exact origins are not known. According to legend however, they were invented when a chef in China's Imperial Court accidentally burnt some dumplings. Oops! Continue reading →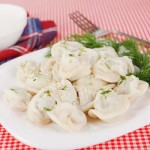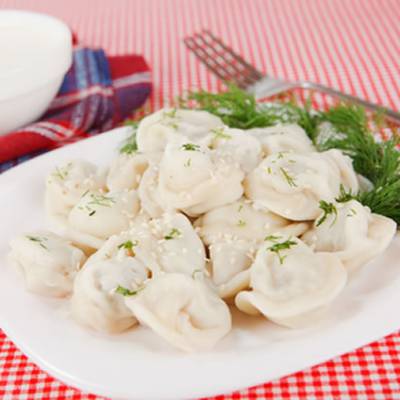 After making a number of steamed wonton recipes, there will come a time when you wish to create your own wonton fillings. Although you can use pretty much any kind of meat, poultry or fish in your wonton filling, it is important to grind or chop it as finely as you can. You need your ingredients to be very small for wonton fillings, so you can mix everything together better. Anything which is not cut into small enough pieces means you risk the wonton wrapper coming apart while they're being cooked and then the filling will leak out which obviously you don't want to happen.
Create Your Own Wonton Fillings: What to Use
Throw some finely chopped or minced vegetables into your wok and cook them over a high heat. It is important to get as much of the water content out as possible, so squeeze the greens. Add ginger and green onions for a nice Asian taste and add your meat. Stir-fry for a few minutes, then add salt, pepper, soy sauce, sesame oil, Shaoxing rice wine, some cilantro, and a little pinch of white sugar or artificial sweetener.
You might have to add a little water if the filling is too crumbly. Let the filling sit for half an hour, then use it to fill your wonton skins and cook them however you like. Continue reading →
Some More Hot Content For You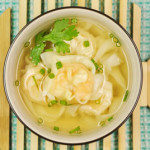 So let's assume you enjoy wonton soup and you have made a couple of different kinds already. What now? How do you play around with wonton soup recipes to come up with your own unique types? How do you come up with ideas for wonton soup if you want to tweak the recipe a little?
First of all, you will need to be creative but you also have a lot of leeway when it comes to choosing flavors and ingredients because you can use pretty much any kind of meat, poultry, fish, seafood or vegetables for making wonton soup. The broth itself should be clear but you can add garnishes or flavors to it.
Ideas for Wonton Soup: Wonton Broth Tips
Wontons would not work in a creamy soup, so keep the broth light and fresh-flavored for the best results. If you can make your own broth or bouillon that is always best. Store-bought broth can be alright but it is usually packed with chemicals and preservatives, so the next time you roast meat, why not boil up the carcass or bones with some carrot, onion, garlic and parsley? This is one of the best ideas for wonton soup and starting with tasty broth never hurts! Continue reading →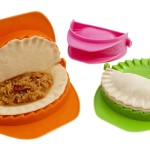 Just because wontons are Chinese in origin does not mean you have to stick with the tried and tested Chinese wonton recipes. International wontons are an exercise in experimentation and sometimes this fusion really works! Of course, traditional wonton soup is delicious and Chinese-style fried wontons offer a flavor experience that most people enjoy very much, but you might like to experiment with a different take on the classic wonton recipe.
Since wonton skins are made with egg, flour and water, they do not have a lot of flavor. This means you can use any kind of filling and rest assured it will complement the wonton skin flavor. For example, if you want to try out something Italian, what about combining mozzarella or cream cheese with finely chopped sundried tomatoes and basil as your wonton filling. For a Greek feel, you could use feta cheese, diced black olives and perhaps some lemon juice and black pepper. A pinch of oregano would also work.
For an unusual Asian wonton, try duck and plum sauce or your favorite meat with your favorite Asian condiment. You could even make a Mexican wonton recipe by mixing grated Mexican blend cheese with minced chilies and ground beef if you want international wontons in a south of the border style. The sky is the limit and you can incorporate your favorite ingredients to make a wonton filling to die for. Continue reading →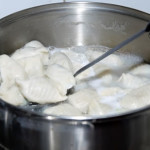 If you are looking for an easy wonton recipe to impress your family, you are sure to find some very tempting wonton recipes right here. Everyone loves wonderful wontons and they are so easy to prepare.
Maybe you are keen to try out meat wontons, fish wontons, dessert wontons, fried wontons, baked wontons or one of the best wonton soup recipes. There are so many wonderful wontons you can try!
There are various ways to wrap wontons and ways to cook wontons so whether you fancy a crunchy filled wonton or a soft dumpling-like one, we have the best wonton recipes for you.
It is easy to be spoilt for choice because all of these easy wonton recipes are good ones. Perhaps you want to start off with some deep-fried wontons, since those are a favorite of many people, or what about an easy wonton soup, just to show you how easy making wontons can be? Continue reading →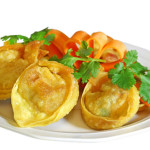 Crab and cream cheese are combined in this easy wonton recipe for a spectacular result. You will need softened cream cheese for these cream cheese wontons with crab so either leave the cream cheese at room temperature for a while or microwave it for 20 seconds.
Feel free to be creative with the wonton wrapper shape when making your cream cheese wontons with crab. You can make scrunched up wontons, triangles or any other shape you fancy. Just make sure they are well sealed so they hold together when they are being fried.
What Kind of Crabmeat to Use
Dungeness crabmeat is the best kind to use, but use whatever type of lump crabmeat you can get. Just make sure you drain it as well as you can, before mixing it with the other ingredients, since it will be packed in water or brine, and that will make your wontons soggy.
The ginger and green onions bring out the flavor of the crab and cream cheese, and plum sauce would be very nice for dipping these wontons into, else you can serve soy sauce, chili sauce or oyster sauce instead for dipping. These cream cheese wontons with crab are very simple to prepare and they only take a few minutes to fry to crispy perfection. Continue reading →
Other Posts You Might Like