wontons
These chicken potstickers are so good. One is never enough. Ten is too many. Well maybe. They're just so tasty you'll want to keep popping them into your mouthy! Potstickers are an Asian delight, and these little snacks are usually filled with meat and vegetables, along with Chinese seasonings. Pork is often used, but here we are using chicken instead.
This chicken potstickers recipe is very simple to make and the potstickers make fantastic appetizers, whether you want to serve hot snacks with drinks, or a first course before your entree at dinner.
You can use turkey if you prefer it to chicken. Along with the poultry these potstickers include cabbage and green onions, along with ginger, sesame oil and garlic for flavor. First you make the filling for these chicken potstickers and then you will be dividing the filling between the gyoza or wonton wrappers to make the potstickers. They are then fried and then steamed, to give them the golden brown crust on the bottom and soft finish on top, the qualities they are famed for.
Continue reading →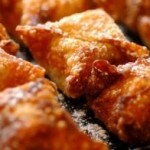 Wontons are great when served as a snack or appetizer and if you have only ever eaten meat ones in a Chinese restaurant or had them from a takeout, you really are in store for a treat when you make your own easy wonton recipes with pork. Any home cook will be able to manage this recipe without too much effort although, like with most dishes, the more you make these, the easier the process will seem to become.
Different Cooking Methods for Easy Wonton Recipes with Pork
Deep-fry them for crispy, crunchy snacks, or steam or simmer them for a softer result. You could even poach them in your favorite broth for a wonderfully warming lunch or supper. Yes wontons really are that versatile and you can choose whether you want them for an appetizer or the main dish, choosing whether you make a few crispy ones to kick off your dinner in style, adding an oriental accent to the meal, or prepare a homemade wonton soup full of delicious homemade wontons.
Another possibility is potstickers, those soft wontons with a crispy side that are made in a pan. Any of these would make a wonderful appetizer or entree. Nothing beats wontons sometimes, and there are easy wonton recipes with pork for every palate.
Continue reading →
Some More Hot Content For You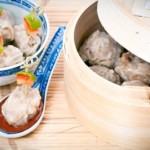 So you have made beef wontons, cheese wontons, seafood wontons, dessert wontons, several types of wonton soup and dumplings. Now what? There are plenty more ideas for wontons that you can consider. How about a filling of minced caramelized walnuts with toasted sesame seeds, or jelly and peanut butter? Those would be quirky yet delicious creative wonton ideas which would work beautifully.
Fresh cottage cheese with smoked paprika would work, as would an Indian style wonton made with potatoes, peas, biryani spices, ginger and cumin. Dip these spicy wontons in a cool yogurt sauce.
Chinese sausage meat could work, or make buffalo chicken purses with chicken, cream cheese, onion, hot sauce and bacon. Collard greens with vinegar and chopped pork loin wontons would be mouthwatering with a mustard dipping sauce, or you could try sautéed shiitake mushrooms with some garlic and cream. How are these creative wonton ideas sounding so far? Continue reading →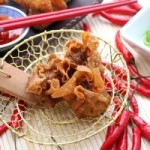 This tempting deep-fried chicken dim sum recipe serves a crowd, and you can double it too. It is easy to make if you are methodical, mixing the filling together, then distributing it between the wrappers and working in batches. The crunchy hot chicken treats can be served alone or with your favorite sauce.
Why We Love Deep-Fried Chicken Dim Sum, Actually ALL Dim Sum!
Known as dim sum in Chinese, appetizers in the Western world, or tapas in Spain, small snacks will always have a place in our hearts and on our tables. They can precede a main dish or just be served as a snack. Dim sum, or Chinese appetizers, are versatile, tasty and just so yummy.
The following recipe takes you through the process of making crispy wontons and you can serve these just as they are or perhaps offer some other Chinese dim sum alongside them, like mini egg rolls or other small bites. Prepare to fall in love with deep-fried chicken dim sum. Continue reading →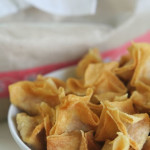 Although you might have enjoyed wontons at a Chinese restaurant or from a takeout, there is nothing quite like the flavor of homemade wontons. Easy wonton recipes are great and there's nothing quite like them! Yes, they have a beautiful fresh flavor and of course you can decide what type of wontons you wish to prepare. Homemade wontons are wonderfully unique because you can experiment with the fillings and flavorings, perhaps making spicy wontons with a cooling dipping sauce, mild-flavored wontons with a spicy dipping sauce, or even traditional wonton soup or healthy baked wontons.
It is totally up to you how to make them, and you can make the most amazing wonton recipes with ease. There is nothing hard about making your own wontons and once you realize how easy wonton recipes are, you will want to experiment with different kinds.
Easy Wonton Recipes: Nothing Quite Like Them!
Wontons are the quintessential crunchy Asian snack and nothing else comes close. Whether you are serving plain fried wonton skins or stuffed wontons, crispy wontons which are still hot from the fryer make an amazing snack. There is also nothing quite like wontons if you are making an Asian soup recipe, and finding soft, succulent wontons floating in your fragrant soup means a meal you will not forget in a hurry. Continue reading →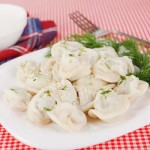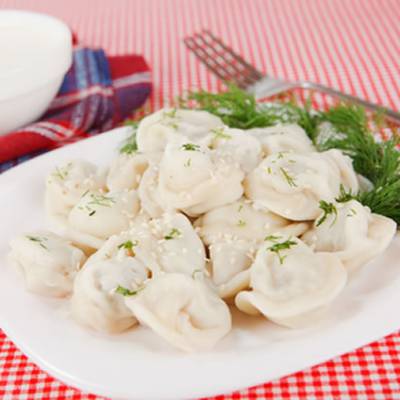 Everyone loves wontons! So what is the history of wontons and how did they come about, get so popular and make their way all over the globe into all of our hearts? Well, wontons originated in North China. They used to be sealed stuffed buns and were named 'huidun' which means chaos. The name was later changed to 'wonton' to suit the Chinese writing characters. Today the word wonton is understood all over the globe, and new varieties and flavors are coming out all the time.
Flour wonton wrappers are stuffed, and then boiled, steamed or fried. They are very similar to Chinese dumplings, although wontons are made with square wrappers and dumplings are made with round ones. Wonton wrappers are also thinner than dumpling wrappers.
There were numerous wonton restaurants in cities during the Tang and Song dynasties, and they were filled with a delicate stuffing and boiled in soup. It was traditional in some regions to eat wontons on the midwinter day, and this is an important fact in the history of wontons. Continue reading →
Other Posts You Might Like