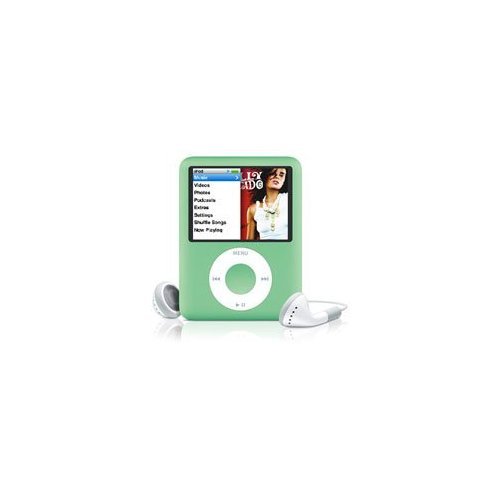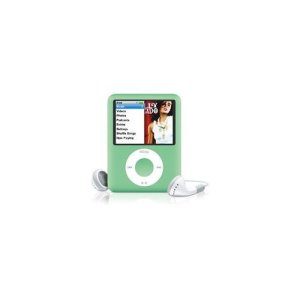 Maybe you have seen iPods or mp3 players on eBbay retailing for a few cents and wonder how come they're so cheap when in the stores they cost many times that price. The phrase 'iPod scams' might come to mind right away because, well, who in their right mind would sell a perfectly working iPod for a few cents?
Despite this being obvious, people still get sucked into iPod scams. Not all scams are obvious either. The price might be significantly higher, like in the shop or slightly less, but maybe there is something wrong with the iPod or perhaps it's not genuine or doesn't have the amount of memory it should.
You have to be careful when ordering an mp3 player or iPod online because sometimes you don't get what you are paying for!
Green iPod Nano 8GB, on Amazon
If you want to avoid iPod scams and get a reliable mp3 player which will keep you supplied with your favorite songs while you work out, commute to work or relax, here are some tips for choosing something good:
Flash Memory MP3 Players
These tend to be better than hard disk players because they are free of moving parts and the music won't skip if you go running.
What is Included?
A lot of portable players play music and lots more besides. Some feature a voice recorder, stopwatch or FM radio. Some comes with better headphones than others, an armband or a belt clip. Make sure the mp3 player or iPod you choose comes with these because then they don't cost any more. Not offering extras is not indicative of iPod scams but shop around before making your decision.
iPod Display
If you have several hundred songs on your mp3 player you will want to be able to find the song you want to hear. The display is also useful for tuning into a particular radio station. If you have an iPod shuffle, you won't have a display screen but that model doesn't hold so many songs so you can play them on shuffle or just skip through.
Size Does Matter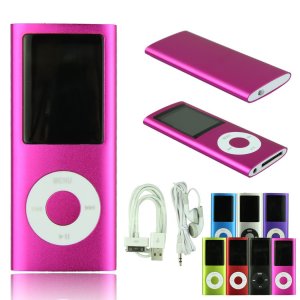 An mp3 player's price depends largely on how many songs it stores as well as things like brand and extra features.
These are approximate figures – a 128 MB mp3 player will hold about 60 songs (4 hours of play), a 256 MB mp3 player will hold about 100 songs (8 hours of play), a 512 MB player will hold about 250 songs (16 hours of play) and a 1 GB player will hold more than 500 songs (over 30 hours of play).
You might be happy with a 256 MB player or you might want to get a 4 GB player. It depends how much music you want to have on it at once, but be careful of iPod scams where you end up paying for more than what you actually get.
Don't forget you can alternate the songs on your mp3 player with what is on your computer at home. If you get bored with your playlist, you can simply change it. Saying that, if you find a 4 GB mp3 player with the features you want at only $10 more than a 2 GB player it might be worth going for it anyway.
Voberry 8 GB 4th Generation mp3/mp4 Player with FM Radio, on Amazon
Buying MP3 Players on Ebay – Some iPod Scams to Watch Out For
You can get a great mp3 player or iPod on Ebay. I know because I have bought several. There are also a lot of scams you should know about before parting with your hard earned cash. Here are some of the things to watch out for:
Less Memory than Advertised
Sometimes you will see an advertisement for a 4 GB mp3 player at a very low price. Hmm, that is a bargain, you think, clicking on "Buy It Now" without further ado.
But is it a bargain? Some unscrupulous dealers working on iPod scams are fiddling with the RAM in mp3 players so that what you get is only half or a quarter of the original size. Perhaps your 4 GB mp3 player only has 1 GB RAM. Many people buy these, turn them on to see if they work and leave positive feedback for the supplier. Then they try to fill it with music and find the memory is much smaller than they were led to believe.
Which Brand?
It is also common to see mp3 players listed in a way which makes you think they are iPods. They might also use a photo of an iPod in their listing but (in very small print) say the mp3 player isn't an iPod in the main description. If you see an iPod for sale for $3, read the small print. It's either broken or it's not an iPod! That's not to say you have to buy an Apple iPod necessarily when another brand of mp3 player might suit you, but do check all the details before you buy or make an offer.
If you are buying an mp3 player, mp4 player or iPod in a reputable shop, it should come with a guarantee in case anything goes wrong. If you want to get one online, and you can get discount mp3 players and discount iPods online, you need to be more careful.
If you are using a bidding site such as eBay, check the seller's feedback. A lot of negatives obviously mean some previous unhappy customers! Pay with PayPal if you can because you are covered if anything goes wrong, if your mp3 player fails to arrive or if it is faulty.
If you want a really basic mp3 player, you can pick one up on eBay for a few dollars (I have and there were no iPod scams involved!) but if you want something a bit better, do your homework and make sure what you are bidding on or buying really is as advertised. Some of the cheapest ones come from the far east so don't expect it to arrive for a few weeks either!